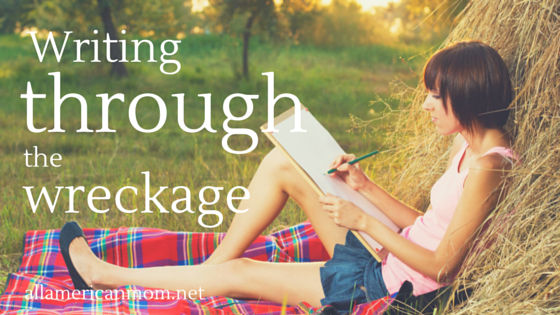 Mourning is an expression of sorrow. And sometimes our sorrows are so sacred that we don't necessarily want to speak our inner thoughts.
And our sorrows stay put.  Simmering in our minds.
Simmering can be good.   A steaming pot of soup perched atop the stove.   Chopped carrots circling the diced potatoes.  Basil releasing its aromatic magic.
But simmering can also be bad.  Especially if words of negativity or sadness bubble within our souls.  Brewing.  Fermenting.
Do you ever let thoughts brew in your mind for too long?    Thoughts of shame or anger.  Thoughts of fear and disappointment.  Thoughts of sadness and longing.
Dear Soul, can I encourage you to do something?  To help release your pain.
Write through the wreckage.  Admit your pain.
Why write about grief?
Writing forces us to acknowledge truth. Even if that truth is painful. Writing gives us a place to process our internal dialogue. To make sense of the madness.  To grieve.
If you keep a closed pot simmering on the stove it eventually boils over.   The same is true for our thoughts.   If we repress our internal dialogue long enough we eventually erupt.
Can I tell you something?  Writing my stories of pregnancy loss was emotionally taxing.  It forced me to revisit painful memories that I would rather numb.  But writing my story- and owning my emotions- helped me move forward.
It gave me comfort to relocate my thoughts from my head to the paper.
It's not just my miscarriages that I've written about, but tragic deaths of loved ones as well.  The paper was a safe place I could be vulnerable.  To speak the unspeakable.
This mere act of expressive writing is healthy for our souls.
The American Psychological Association has published research chronicling the healing power of writing.  In fact, expressive writing has been correlated with strengthening the immune system and mind.
So I am going to challenge you.  To help you mourn.  To help strengthen your mind.
I invite you to write through the wreckage. 
Unpack you mind and put the words down on paper.  It doesn't have to be pretty.  It's not a pretty story, is it?
So be raw.  Be honest.
But, your story also includes glimmers of humanity.  Remember the goodness that other people displayed.
The sorrow they showed.  The hugs they gave.  The  fact that you cradled a loved baby within your womb.
Write about the hope you have for a new day.  The day that you will greet your baby in Heaven.
Keep your words private or make them as public as you desire.  Share them with a confidant or tuck the papers into a secret place.
Don't worry about grammar or spelling.  This is just your truth.
I warn you…you will write about things that are tough to admit.  Anger.  Jealousy. Bitterness. Fear. But you must acknowledge those emotions so that they don't spew forth in an avalanche of rage or depression.
It might take you a few hours, a week, or even a year to finish writing your story.  You might not ever even finish.  Your paper will be tear-soaked.
Expect this challenge to be painful, but also expect it to help ease your mind.
If you want to discuss or share what you've written with other women, I urge you to join the private, online support group  Loved Baby: Christian Miscarriage & Pregnancy Loss Support for Women.
In this sisterhood, you can share with women who've walked and are walking the very same journey you have been forced to trod.  It's helpful to connect with women in a safe community.
Would you like to read the stories of others?  Visit Don't Talk About the Baby.
How can you write about your story? 
Use these prompts to get your mind focused.  You don't have to write it all at one time.  Just write a bit at a time.  Perhaps, you are reading this and have faced a type of grief other than pregnancy loss.  Write through that trauma.  You won't find the answer of why, but you will find out more about yourself and how you can find strength.
Prompts:
The day I found out I was pregnant I was so (happy, scared, surprised, angry) ______________.
I told _____________________.
The day my womb baby perished I felt so _________________.  I was ___________________.
Physically I felt ____________________.
Emotionally I felt ___________________.
I never expected pregnancy loss to be so __________________________.
My greatest internal struggle has been_______________________.
____________________(person, activity, a book, a scripture) has helped me throughout this time of grief.
---
I know this is challenging Dear Soul, but writing will help you release some of the steam from the closed pot.  Suzie Eller writes a prayer in The Mended Heart that will help you work toward releasing the negative inner dialogue:
Dear Jesus, I have spent hours in my thoughts where I am angry, or I am the hero, or I tell someone what I should have said, or I put them in their place.  Today I recognize all of that as a trap of the enemy.  Today, with Your help, I shut the gate to the playground of unhealthy thoughts.  I put them down; when I start to pick them up again, remind me that they are a burden, and that You have more for me than this. 
---
Has writing ever helped you mend your heart?
Blessed are those who mourn; For they shall be comforted.  Mathew 5:4
Love,
Sarah