Hi friends!
Loved Baby: 31 Devotions to Help You Grieve and Cherish Your Child After Pregnancy Loss will be available everywhere on October 2nd! It's already being called "raw & real" and "a must-read." Holley Gerth, Lori Ennis of Still Standing Magazine, and Star Legacy Foundation were all early supporters of this book and the contents.
This hardback devotional is all about women feeling less alone after miscarriage, stillbirth, and ectopic pregnancy loss.   It is filled with Christ-centered compassion + real talk.
This book is a place for women to mourn and cherish the lovely little life that took root in their womb, but now blooms in heaven. Others care for physical needs, but Loved Baby is to cradle the needs of souls.
Did you know that you can buy the book in a bundle a whole month prior to its release date?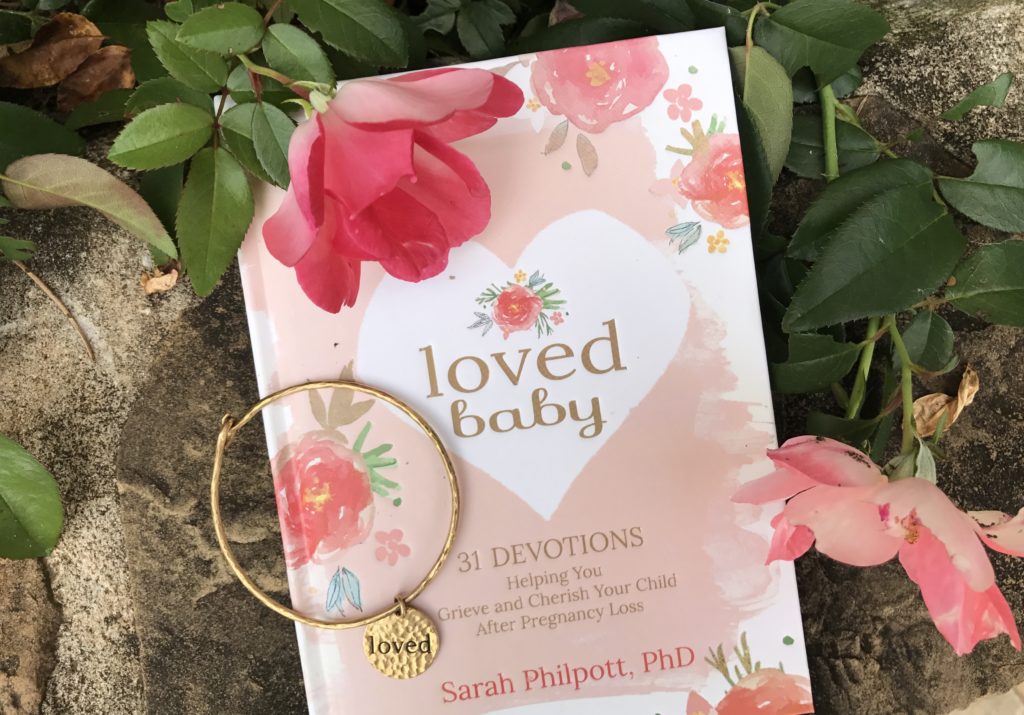 Fashion & Compassion and I put together a gift set that includes the Loved Baby devotional plus the LOVED bracelet. This bracelet + book is  wonderful gift for yourself, or someone you know who has lost a baby at any stage of pregnancy loss. The Sterling Silver heart will be a constant reminder of your precious baby & may the "loved" charm bring you peace knowing you are loved! <BUY IT HERE>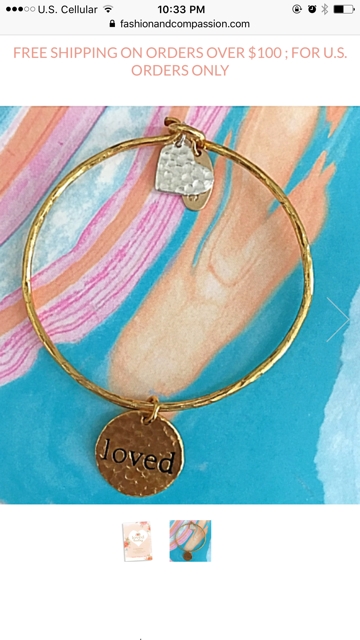 I'm praying for all the women who have to grasp the contents. & I'm giving big praises to all the women (and men!) who shared their hearts with me.  Their words glitter the pages of this book, too.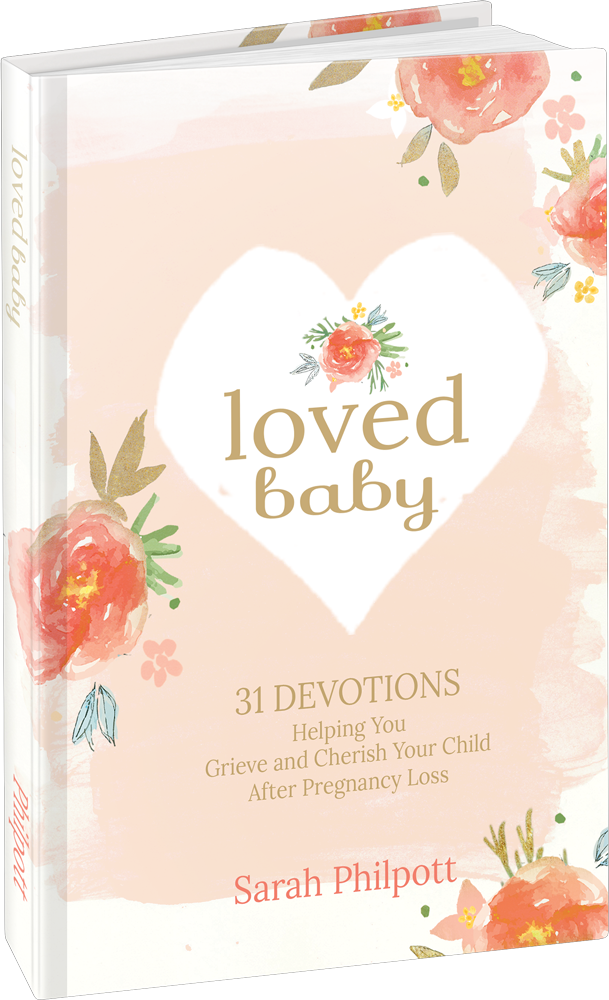 You can also preorder the book at these locations:
NOW AVAILABLE
ABOUT LOVED BABY
Close to one in four American women experience the silent grief of miscarriage, stillbirth, or ectopic pregnancy loss. Loved Baby offers much-needed support to women in the middle of psychological and physiological grief as a result of losing an unborn child.
In Loved Baby, author Sarah Philpott gently walks alongside women as they experience the misguided shame, isolation, and crushing despair that accompany the turmoil of loss. With brave vulnerability Sarah shares her own and others' stories of loss. Using their collective experience, she offers Christ-filled hope and support to women navigating grief.
This fresh and compassionate devotional offers:
Real talk about loss
Christ-filled comfort
Tips to manage social media, reconnect with your partner, and nourish your soul
Knowledge that your child is in heaven
Strategies to walk through grief
Ways to memorialize your loss
Whether your loss is recent or not, Loved Baby can be your companion as you move from the darkness of grief toward the light of hope.
WHAT PEOPLE ARE SAYING 
The first place I went after losing our baby to miscarriage was the bookstore. I stared at the shelves looking for words of comfort and hope, longing to find an author who would also feel like a friend putting her arm around my shoulder. I wish Sarah's book had been there then, and I'm so grateful it will be there for other women like me now.
—Holley Gerth, best-selling author of
You're Already Amazing, holleygerth.com
---
Our culture programs us to feel as though motherhood should be all sunshine and roses—breakfasts in bed made by beaming, freshly-bathed children. We learn to think that a woman cannot fulfill her God-given destiny unless she nurtures the lives God enabled her to bear. And yet, when one of those lives is lost, or when life never begins, the world suddenly goes quiet, leaving these women alone and suffering. Here's the key, though: When we offer our hurts to God, He will bring healing. He is the salve that soothes even the deepest wounds. Through Sarah's words in Loved Baby, you will realize that you're not called to forget but to welcome God into your pain. You can remember and honor and grieve and be made whole again. With God, even this is possible. Step into these pages like you're walking into God's comforting embrace, because that's exactly what this book has to offer.
—Kelly O'Dell Stanley, author of Praying Upside Down
and Designed to Pray, kellyostanley.com
---
This book is the one I wish I'd had when I lost my first son the day after he was born sleeping and my third son when I was fifteen-weeks pregnant. For my aching, searching heart to have God's truths and promises put together so compassionately and with such honesty would have been a gift, and one I now will graciously share with others who have to walk this life-changing path. God's goodness and comfort flow freely from Sarah's heart and will bring healing and redemption to so many.
—Lori Mullin Ennis, editor of Still Standing Magazine
---
"Your numbers have dropped," the nurse said. "Let us know if the bleeding starts filling a pad every hour. I'm sorry." And with that, I learned I was about to have my first miscarriage and second pregnancy loss. A few days later, without bleeding or cramping in sight, I took my husband to Barnes & Noble. I wanted to find something—anything—I could read that would tell me what to expect. The books I found (which weren't much) focused on family planning, or, get this, how not to have a miscarriage. Seriously? Women who miscarry needed help, and I found nothing that offered it. In the meantime, our story kept going through three more losses and our time with Z and finally our rainbow pregnancy with Ellie. Thank goodness some of our friends have been in the trenches and are ready to share their hearts and encouragement to women who need a worthwhile resource. Sarah Philpott is one of my friends in the baby loss community. Her book Loved Baby is a devotional and journal for baby loss moms. You will want to get this book in your hands!
—Rachel Lewis, writer, foster mom, adoptive mom,
biological mom, thelewisnote.com
---
I have known Sarah Philpott since the moment she was born. As the doctor who delivered her into this world in 1982, I experienced the joy that comes with new life. I have known her family for over fifty years. In fact, I delivered for her mother when she gave birth to her child born still. I have marveled at Sarah's growth into a talented, deeply Christian wife, mother, and community servant. She is a dynamic, persistent, and dedicated young woman. Her career has consisted of writing many professional publications. Her dedication to intense research and careful analysis, combined with her innate skills interviewing and bonding with other women who have had similar outcomes, has resulted in this inspiring narrative, Loved Baby. She informs the reader about the trials and struggles mothers and fathers face in their post-loss journeys. She gives hope to those who think they will never conceive again or be successful at giving birth following the loss of a child. As the readers of this beautiful testimony will find out, Sarah has succeeded in giving others, even in the darkest times of their grief, the courage to face challenges and to return to a life of normalcy. She has walked with God on her path and knows that, through all things, if our faith is strong and the support of our beloved family and friends is present, we can overcome the adversities associated with this devastating occurrence. It is a distinct honor and pleasure to recommend Sarah's heart-felt thoughts to those who have endured pregnancy loss and those who try to help and support their loved ones. Loved Baby will fill you with healing, hope, and God's love.
—Shelley F. Griffith, MD
---
"They instinctively knew to show me quiet love" is only one example of
the exquisite healing words Sarah Philpott uses to help those of us grieving after a pregnancy loss. Her remarkable insights, coupled with her enormous compassion, give us the guidance and strength we need to walk through this devastating journey and know we are not alone. If you have ever loved someone who has suffered through a pregnancy loss, Loved Baby may well be the answer to a prayer. I am grateful for Sarah's ability to impart her wisdom and spirituality, hope and grace for all of those who will benefit the most. And bless the beautiful babies in heaven who will live on in our souls forever.
—Lisa Leshaw, MS, CMHC mental health professional
---
Christian women who have known the unfathomable pain of pregnancy loss at any stage need this devotional. The writer Sarah Philpott is with you on your journey, and through her transparency regarding her own loss, recovery, and faith walk, she offers guidance on healing for mothers post-loss.
—Autumn L. Carusillo, PHD, LCSW
---
The death of a baby is one of the worst and most traumatic experiences
of a parent's life. The grief that follows is all-consuming and often isolating. Sarah Philpott has created a way for parents to process their own grief journey while being reassured they are not alone. Loved Baby is a beautiful resource for bereaved parents in their darkest days.
—Lindsey J. Wimmer, CPNP, CPLC,
executive director of Star Legacy Foundation
---
Loved Baby left me spellbound. I cried and rejoiced at the same time at the healing power that God can bring.
—Jenn Hand, author of 31 Days of Coming Alive
and director of Coming Alive Ministries
---
In this book, you will feel like Sarah is speaking directly to you as a gentle
friend and a loving sister. She truly understands the pain of loss and has a beautiful way with comforting words and practical advice. I love that she pairs godly encouragement with factual information about child loss to help address all parts of grieving: the intellectual, spiritual, physical, and emotional. If I had Loved Baby as a resource during the darkest stages of my miscarriage, I certainly would not have felt so alone. The Loved Baby ministry was instrumental in my healing, and I have faith that this book will be instrumental in yours.
—Rosemary Ferrera, mother, former Miss Virginia,
& Christian blogger, SoulStrongFitness.com
---
Loved Baby is the book I wish I had after my first loss. Sarah Philpott is like a loving sister who has been there, guiding us through. I love the easy-to apply soul work sections. I cried through most of the book. I would say that even after months and months of grief counseling, reading almost every book out there about pregnancy loss and how to cope, and being in a support group, Loved Baby is what brought me the rest of the way. I can't even find the best words to tell you how extremely helpful this is going to be for
so many women.
—Jessica Knipprath, mother
---
I feel like this book was instrumental in my healing from my miscarriages,
almost seven years since my last one.
—Jenny Tilley, RN
---
Loved Baby deals with a topic so dear to my heart because of my experience with three years of infertility and the loss I experienced with my first two babies. I would have given anything to have someone walk me through that season with spiritual insight as well as personal experience. This is why I am thrilled about my friend, Sarah Philpott's new book. Whether you are still grieving or not, you can trust her with your heart.
—Jennifer Watson, author, pastor,
and writer, jenniferreneewatson.com
The Book Trailer 
Save