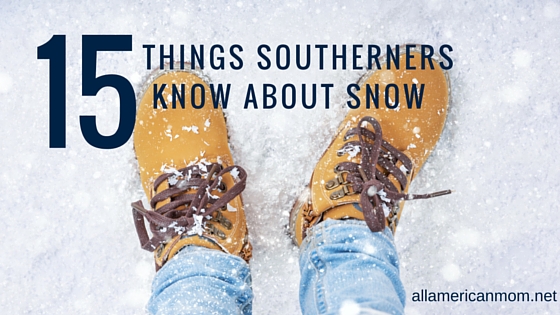 Where I live the excitement of snow rivals Christmas morning. Many might refer to it as a light dusting, but to us southerners any amount of snow is pure magic.  We in the south have our own peculiar traditions & customs when it comes to this white enchantment that falls from the sky.
1).  Legend has it that if a large number of kids wear their pajamas inside out to bed then they will awaken to a winter wonderland.  At least that's what elementary teachers preach to the kids when snow is in the forecast.   Hey…God works in mysterious ways!
2).  Similar folklore suggests that flushing ice cubes down the toilet will also cause a snow day.
3).  A proper definition of snow day is when school is called off due to inclement weather.  No snow has to exist on the ground for school to be cancelled.  Just the threat of snow.  This baffles our northern friends.  (But we ALL remember the blizzard of "93, right?).
4).  Milk & bread is an absolute necessity.  Why?  Who knows.   But if the weather man utters the word "snow" grocery stores, gas stations, and dollar generals will be sold-out of both within hours.  Some theorists refer to this as a conspiracy between weathermen & food stores.
5).  Snow Cream.  Aaah…snow cream.  Although we would never allow our children to drink rainwater by the cupful without first sanitizing it, we do encourage all members of our family to savor the delicious dish of snow carefully mixed with sugar, milk, & vanilla   It is a heavenly treat.
6).  Network television will be constantly interrupted so that the local news-station can give up to the minute insight on how locals are affected by the one and half inches of snow that has fallen.
7).  All responsible news media will utter, "It's treacherous.  Don't go out unless you must!" throughout the broadcast.
8). But we do go out. Because snow is so scarce that we must experience the witchcraft.  And test out the tires on our vehicles.
9).  We pull out clothes from boxes and seldom-used drawers designated for snow clothes.  We dress our kids in a hodge-podge of mismatched hand-me downs so they don't get too frigid.  Garbage bags and tape can be substituted for boots if proper waterproof footwear is not found.
10).  Snowmen will be built. No matter how pitiful the size they always look splendid adorned with carrots, coal, & stray sticks.
11).  Snow might barely cover the grass, but kids & adults alike will find a way to sled.  And roll in the snow.  Make snow angels.  Catch snowflakes on their tongues. Throw snowballs.  And have big, goofy grins on their faces all day.  Perfectly content in the fun.
12).  Then there will always be that one adult who says:
"Hey! I'm gonna hook-up the 4-wheeler/atv/lawn mower TO THE sled/inner-tube/car hood.  Let's show these kids a good time!"  It will quickly be determined who the responsible (not fun)/ irresponsible (super fun) adults in the group are.  The kids will always side with those in the negligent camp!  This is precisely why hospitals can't close for a snow day.
13). Exhausted you'll go home to hot cocoa and cookies.  Grilled cheese sandwiches and tomato soup.  Homemade beef stew or chili will simmer on the stove for dinner.
14).  If you live on a farm, you'll wake up the next morning with bruises on your rear from sledding over ski jumps (frozen manure piles covered in snow) in the pasture.
15).  And you'll start praying all over again for the sacred snow day.  When magic falls from the sky, the world stops, and life-long memories are made.
Our southern traditions might be peculiar to some, but to us they are just a celebration of this elusive miracle called snow.
---