Hello!  Welcome to my blog.  I'm Sarah, and over a decade ago I married my high-school sweetheart.  We live on a cattle farm in the south.  It's a messy, yet beautiful world out here.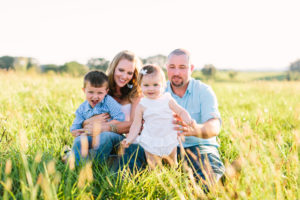 On most days I rock a pair of Muck boots or flip-flops, but I also love a good pair of stilettos. Our pride and joys are our three littles.  Two boys and one girl.  As you can see…the picture was taken before the arrival of our latest little man.  Come summer, I'll have a new photo to share that includes our youngest.
I love spending days at the river, reading, cooking, eating, gardening, acting in community theater, studying about God, and oddly enough-organizing.  Unfortunately, my home rarely looks organized!
I also adore traveling.  However, in addition to my wanderlust, I am also a homebody.  I really think I could stay out here on the farm for a month and never get bored.  Not for a single second.
I am a former teacher and earned my Ph.D from the University of Tennessee.  I use this degree to conduct research and write, but mainly I happily choose to be a stay-at-home mom.
I spend my days cleaning peanut butter & jelly off the counter, dreaming of traveling the world, and hosting events for my family, friends, and community.
I live the life of Pioneer Woman, but not really…because I don't possess the natural gift of being a culinary goddess.
In between the births of my children, I had two miscarriages. This experience caused me to do what I do best: research a topic.
After recognizing a need for a Christian voice and advocate specific to the topic of miscarriage, I created a private online environment of women willing to share their pregnancy loss stories with each other so that I could weave them together in a book intended to reach the hands of women currently experiencing loss.
The book will  be available on October 2nd!
This blog also includes my musings as farm mom and wife.  And whatever speaks to my soul.
Thank you for dropping in!