A few weeks ago I accepted the opportunity to review Crossway's new ESV Family Devotional Bible.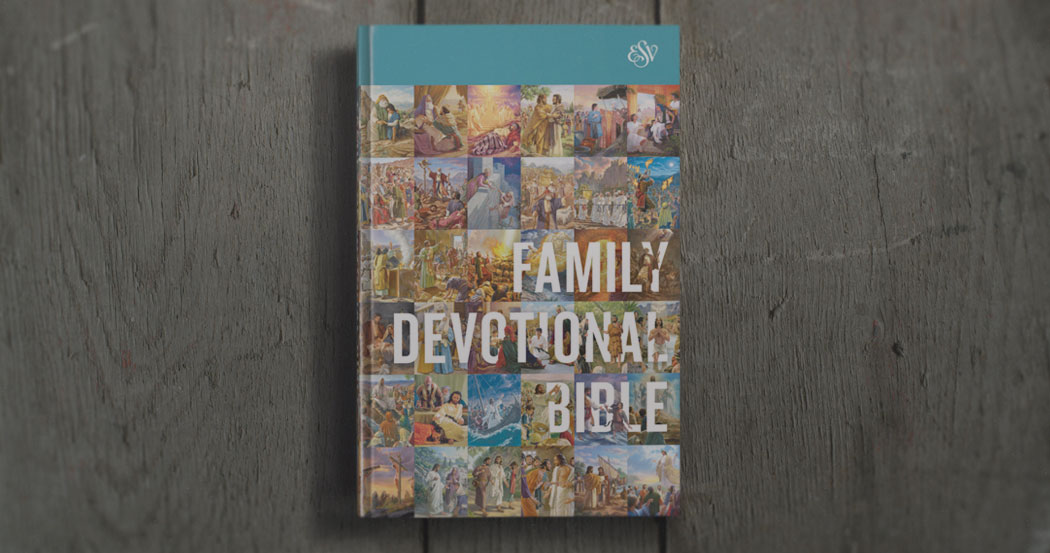 Lest you have idealistic imaginary images in your head I must tell you that we are not the family, who after dinner each night, sits around a circle for family devotion time.
I admire those families. But it's not us.
All families work a little differently, don't they?
And that is okay.
As a mom, I've never settled my brood into a routine. My husband is a farmer and leads very unpredictable hours. So we lead unpredictable lives.   It works for us!
But this doesn't mean we don't spend time throughout the day talking about God and the Bible.
Up to this point, my kids see me reading my Bible on a daily basis and I read kid-friendly Bibles to my five-year old and two-year old.
These Bibles created expressly for children are truly lovely.
But I've felt a bit of disconnect between my adult Bible and their kid Bibles.
I want my chiidren to see the Bible as real.  Filled with the word of God and full of stories of people who really lived. The brightly colored illustrations in the kid-bibles tend to fictionalize the word. It makes the Bible appear just like all the other children's books we read throughout the day.
I want to make sure my kids realize their is a difference between our Curious George Books and the Bible.
This is one reason why the ESV Family Devotional Bible piqued my interest. It is a "normal" looking Bible that features:
130 gospel-centered retellings of key Bible stories with full-color illustrations
Reflection questions for the whole family to discuss together
Full-color, kid-friendly maps
This hardbound colorful Bible has 130 key stories from the Bible woven throughout the text. The stories are easy for children to understand and include a link to the original scripture and questions for the family to discuss.   Pictures to accompany each devotion are presented in a realistic fashion.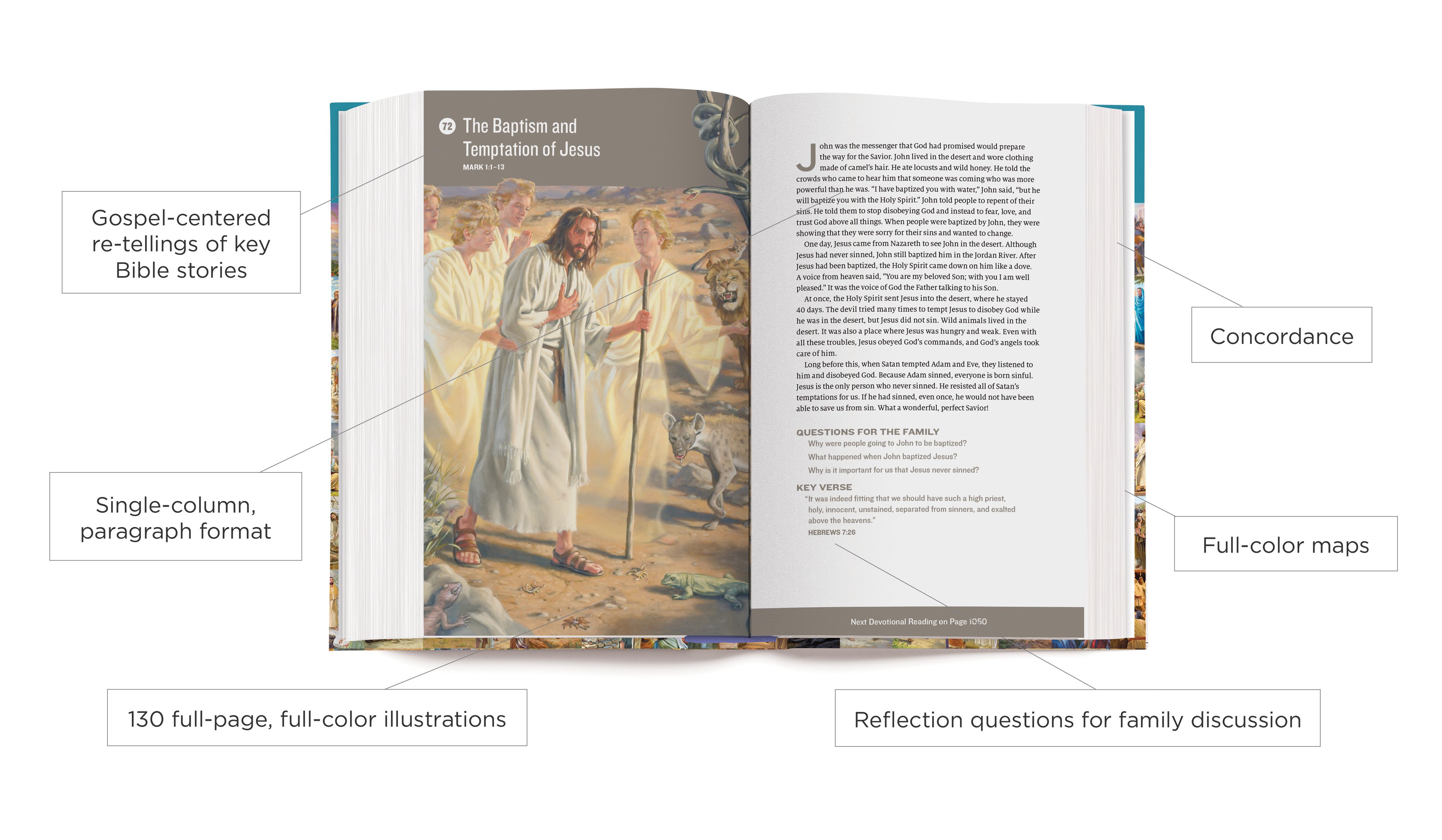 One item that I really appreciated about this Bible is sheer amount of Bible stories included.
This makes me think that the ESV Family Devotional Bible is perfect not only for children- but also for adult family members who might not have grown up learning all the stories of the bible.
The ESV Family Devotional Bible will not replace the Bible that I use personally each day, but it will be a wonderful addition for my family.
We might even just start trying to have a bit more of a nightly routine!
---
ENTER TO WIN A COPY OF THE FAMILY DEVOTIONAL BIBLE
CONNECT WITH THE FAMILY DEVOTIONAL BIBLE ON SOCIAL MEDIA:
Facebook – https://www.facebook.com/CrosswayBooks/photos/a.129796233631.107576.71392238631/10154030140753632/?type=3&theater
Twitter – https://twitter.com/crossway/status/718552505941041152
PURCHASE THE FAMILY DEVOTIONAL BIBLE ONLINE:
Amazon – http://www.amazon.com/Family-Devotional-Bible-Bibles-Crossway/dp/1433551497/ref=sr_1_1?ie=UTF8&qid=1461101430&sr=8-1&keywords=family+devotional+bible
"Disclosure (in accordance with the FTC's 16 CFR, Part 255: "Guides Concerning the Use of Endorsements and Testimonials in Advertising"): Many thanks to Propeller Consulting, LLC for providing this prize for the giveaway. Choice of winners and opinions are 100% my own and NOT influenced by monetary compensation. I did receive a sample of the product in exchange for this review and post.
Only one entrant per mailing address, per giveaway.  If you have won a prize from our sponsor Propeller / FlyBy Promotions in the last 30 days, you are not eligible to win.  Or if you have won the same prize on another blog, you are not eligible to win it again. Winner is subject to eligibility verification."