A few weeks ago a bright pink, cheery box was sitting upon my doorstep.
Subscription boxes are quite popular, aren't they?  They range from boxes of beauty samples to craft projects for your kids.
Loved + Blessed subscription boxes are a bit different…they are boxes of faith-based encouragement!
Each month the box of encouragement includes:
a MINI POSTER for your home or office
a repositionable REMINDER STICKER perfect for your mirror, laptop or tablet
a SCRIPTURE CARD sized to fit in your pocket or purse
a removable KEEPSAKE THEME CARD
a special GIFT OF ENCOURAGEMENT
See my box!  It's super cute, well-crafted, & was an uplifting package to unwrap.  The theme of the box I received was "Beauty."  I loved the message, "We know that inner beauty is what is most important in the eyes of our Creator, but YOU ARE BEAUTIFUL on the outside too!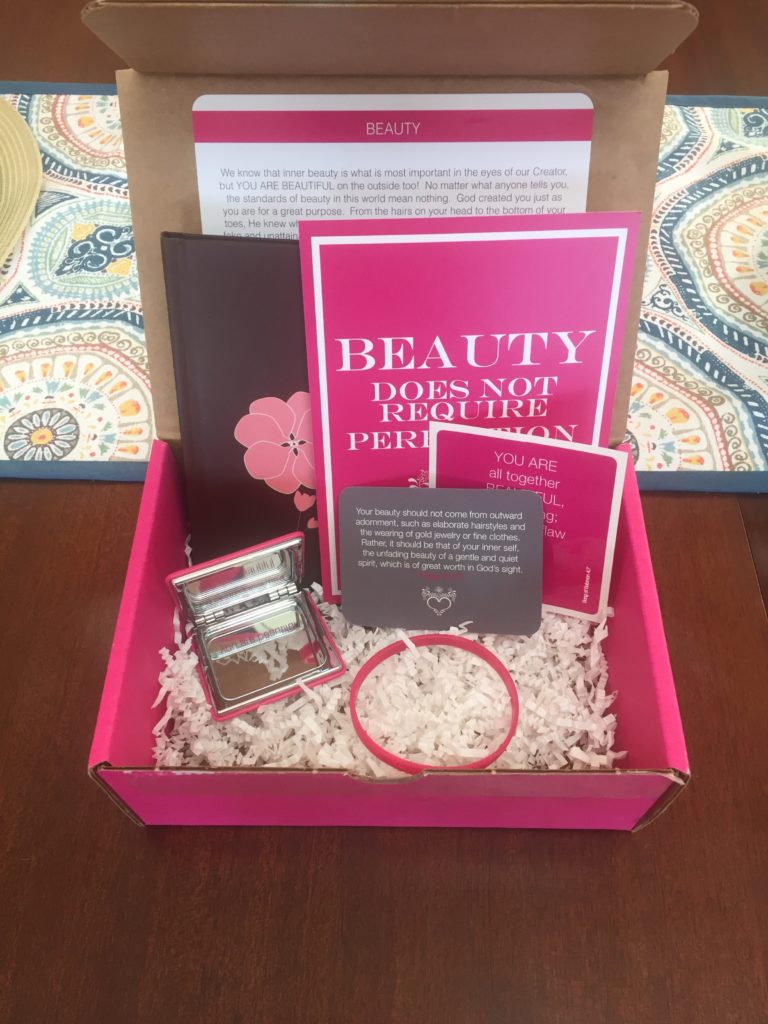 In my box I found a prayer journal, compact, and bracelet.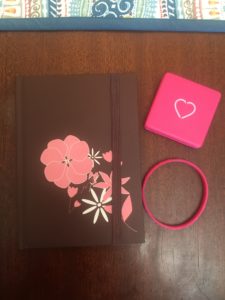 Plus a mini poster, sticker for my laptop or mirror, and a scripture card.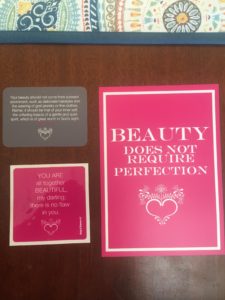 I adore this idea!  I wouldn't necessarily order a box for myself, but I would order a box for a loved one.  I'm notoriously bad about sending out greeting cards & panic a bit when I need to send something thoughtful to a friend.   In fact, a few years ago I was a secret pal for a widow at our church.  My task was to send packages and letters of encouragement in the mail.  I'm sad to say that I was horrible at this outreach project of love.  I was on a limited budget, yet wanted to send something meaningful.  These monthly gift boxes:  https://lovedandblessed.cratejoy.com/subscribe/gift/35840163_Box+of+Encouragement would have been perfect answer to my quandary.  The plans start at just $10/month + $3 shipping & handling.   But you can save even more with their 6 & 12 month gift subscriptions!
These would make great little packages to send to elderly family members, college students, someone going through a tough season, or just someone who needs a bit of love wrapped up in a pink box.  Check out their website  at– www.lovedandblessed.com.
GIVEAWAY
WOULD YOU LIKE TO WIN A 12-MONTH SUBSCRIPTION?
Follow this link below to enter to win a 12-Month Subscription.
Giveaway Link – http://bit.ly/lovedandblessed
(Disclosure:  I received the above box at no charge in exchange for an honest review. )