"What are you doing today?"
"Oh, nothing,  We're just out feeding the llamas."
My mom snickered across the phone line.
"Just feeding the llamas?" she said.
"Well, yeah.  We've not really done anything today."
"Hmmph," she chuckled.  "Sounds like everything to me."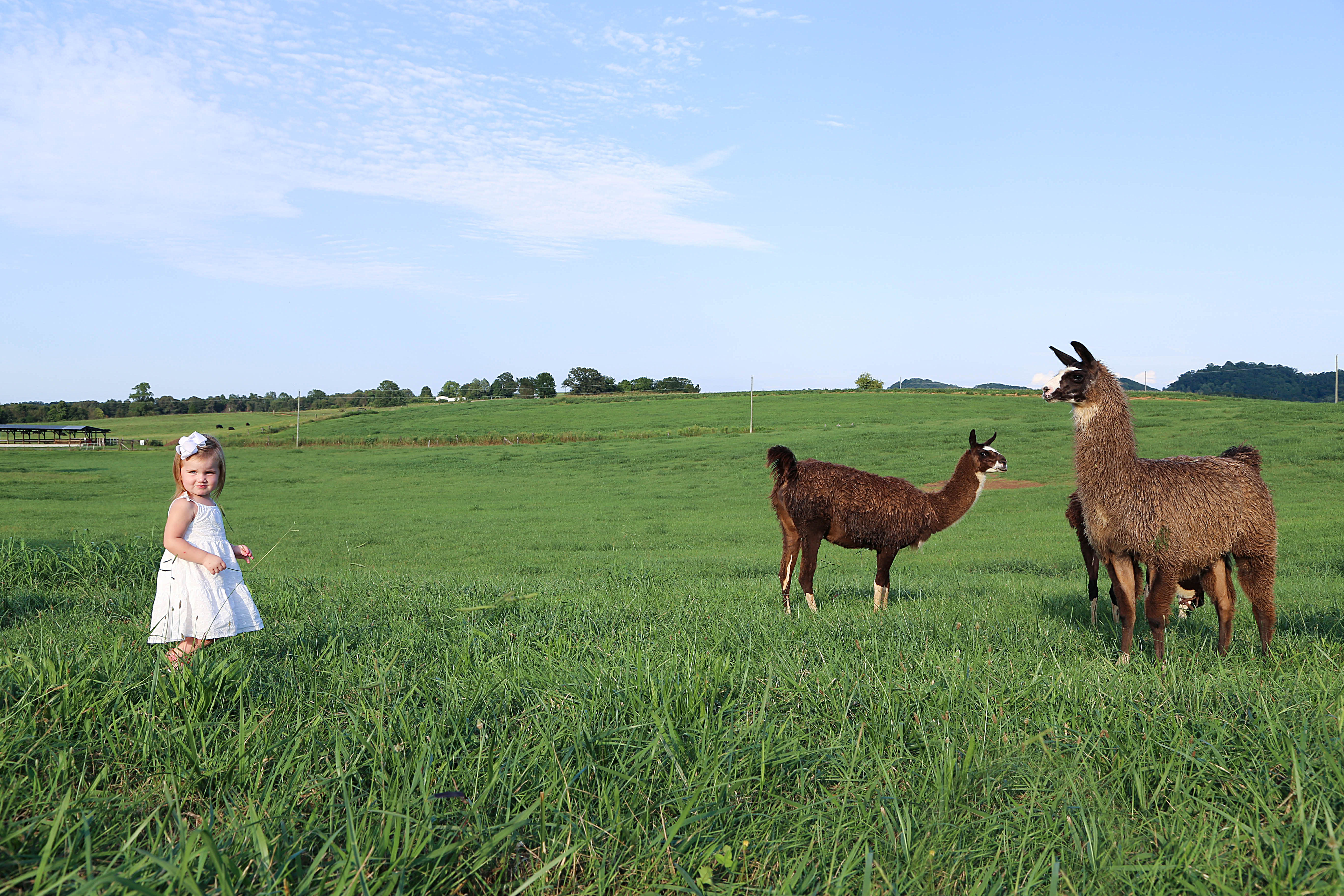 All I could see was the dust on their boots.  The mud on their knees.  The mess I would have to clean.
But my mom made me recognize something more.
I placed the phone in my pocket, reflected, and actually looked at the sublime scene in front of my eyes.  My kids had galloped through our front yard to get to the front pasture where our llamas live.  Carrying with them were carrots, discarded lettuce & a honey-bun they were convinced the llamas would love.  They'd clamored up the gate and were taking talking to the animals.
With eyes afresh I let out a deep breath, discarded the practicality of being a mom, &  finally recognized the beauty in the dusty feet.
The glory of the little moment–something my kids & I do most everyday– had totally escaped my attention.
We live on a farm in the foothills of mountains.  Our daily rhythm might include just picking blackberries or just making forts in the hay barn.  Just dancing to music in the kitchen or just squabbling over legos.
We all get in this habit, don't we? Saying just and considering the daily routines of our lives as unimportant and less than spectacular.
Oh-we're just having Saturday morning pancakes.  Just playing checkers.  Just having a picnic in the backyard.  Just reading a bedtime story.  Just gazing at the stars.
When in actuality…the justs in life are actually the very core at which our home & families prosper.  These little things are the very soul-giving elements for our families. The very place love is rooted.
Sarah Clarkson, in The Lifegiving Home, says, " There is heaven in the ordinary, in the simple goodness of the everyday…"
And that we must "step aside from the mundane and remember the source of all the life and love we see."
Let's embrace these tiny moments of motherhood as building blocks of a life breathing ministry & celebrate the source of all this delight.
This doesn't mean there won't be squabbles over leggos or defiant squeals over having to take a bath again!  But it does mean that we can all purposefully cultivate rhythms in our lives that recognize the God-given beauty in the dusty feet.
Profound beauty can be found in the simple.  In the everyday.  In the rhythm of our own ordinary.
Even in feeding the llamas.
---
---