A few months ago we took our family of five to Disney World.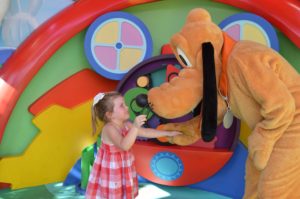 We joked throughout our trip that the the front seat of the double stroller was the most coveted ride in all of Disney!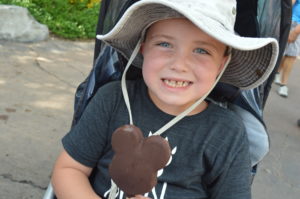 Ha. Our two oldest (3 & 6) fought constantly over who was going to get to be pushed around.  The baby, of course, got permanent residence in the stroller.  He essentially snoozed his way through that vacation! (Thanks Aunt Cathy for the cute onesie:).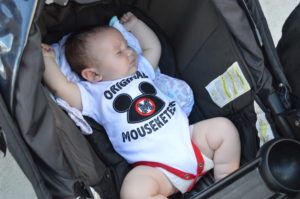 Before our trip we deliberated about how many strollers we should take.  We decided to just take the double stroller.  "The kindergartner can walk!" we told ourselves.  "I'll carry the baby in the Ergo." I kept saying.
Big mistake!  That much concrete (did you know that Walt purchased over 25,000 acres to house the amusement park?) plus Mickey-sized exhaustion equals all kids needing the opportunity for a leisurely push.  Our six-year old is one tough little man…but at times it was even too much for him.
And although I love to babywear, the September heat was just too much.
So daddy gave tons of rides on his shoulders!
He's such a fine man.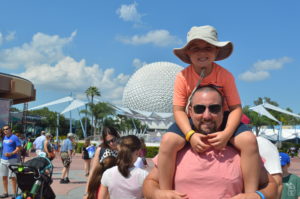 And for the record…our favorite ride is Everest!  And our favorite park is Animal Kingdom!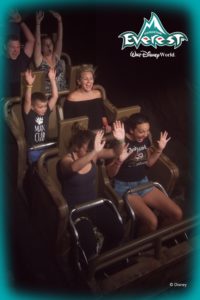 On our way home we talked about what went right and what could have gone better…we both said that next time two strollers will be packed into our vehicle.
So my number one advice to vacationers traveling with young children to Disney World is: take a stroller…but make sure you have enough seats for all your kiddos.
Translation: take a single stroller if you have one child. A double stroller if you have two kids.  And three seats of strollers if you have three kids.   Even if you think your child is old enough to walk I highly recommend you err on the side of caution.
Why Take the Strollers?
A Place for A Nap |  Trust me…your kids will fall asleep in the stroller and take a great snooze.
Fast-Paced Access to your next FastPass |  When you need to hustle from Splash Mountain to Space Mountain a stroller makes it much easier to push all your kids through the crowds in a hurry.
Child-Safety |  You can essentially strap all your children in the stroller and not have to worry about one wandering off on foot.
Down Time for the Adults |  Once again, you can essentially strap all your children in the stroller and not have to worry about one wandering off on foot.  Which means you can eat that Dole Whip in peace.  (You can find one in the Magic Kingdom behind the Magic Carpets of Aladdin ride.  Trust me. It. is. so. good).
Doubles as a Bed in Your Room | The stroller was a great place for the baby to snooze in at night.  It's a familiar location for your little one. 
Shade at the Pool| If it's nap time for your littlest you can lounge by the pool while your baby slumbers right beside you in the stroller.
---
Just always make sure to park the stroller in the designated stroller areas.  Otherwise a Disney cast member will move it for you while you are on a ride…and then it might be super hard to located yours in the sea of buggies!
And guess what?  I have a $50  giveaway!
I'm so excited to partner with Nakturnal to offer one lucky reader a $50 gift card to diapers.com.  Yes…$50!  This way you can have all the baby gear you need.
How to Enter
Leave a comment below telling me your all time favorite Disney movie.  Mine is Lady and the Tramp, Robin Hood, and Mary Poppins.  Obviously I can't decide!
I'll announce a winner at the first of the year!
Thank you so much for visiting with me!
xoxo,
Sarah
"This giveaway is a partnership with Nakturnal, with a prize of a gift certificate"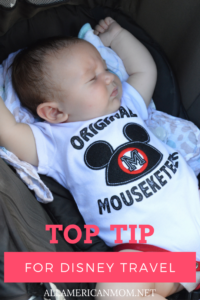 Save