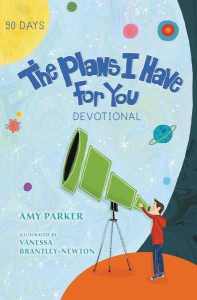 When this brightly-colored devotional and journal arrived in the mail I immediately knew who needed to review the book, Kendyl- my  favorite little artsy 3rd grader who loves to read, write, & create!
So I contacted her mama and soon jetted the books over to her house so they could add it to their bedtime reading!
A few weeks later I caught up with Kendyl to find her eight-year old opinion of the books.
This little lady gave me a well-thought assessment!
THE REVIEW
We started out browsing the devotional.  Each devotional is headed by a scripture.
Her first stop was to show me the entry headed by Psalm 139: 14:  "I will praise YOU, for I am wonderfully and fearfully made."  
She told me she read it last night at bedtime.  She admitted that the vocabulary in the scriptures was a bit challenging to understand, "I kinda wish they would just put it in kid terms" she said.  But, she told me her mama helped explain what words like "fearfully" meant.
This struggle in vocabulary didn't stop her from grasping the devotional message.  I asked her what she thought the scripture and entry were trying to tell her.
She said, "God made you to be wonderful.  Just the way You are.  You don't have to be different- even if people think you are being weird.  If you are trying to be like somebody else you should stop and just be yourself.  Have confidence.  God made you just the way you are.  You are perfect in who he made you."
This child gets an A in understanding & articulating the main idea for sure!
OUR TAKE-AWAY: The meaning of each scripture (especially the vocabulary) might be difficult for some of the younger readers.  It would be helpful to have a parent review the entry with the young readers.
But, based on her review, it is clear that the author and illustrator do a fantastic job of relaying the message that God has big plans for each of us…just the way we are.  
After browsing the devotional a bit more,  I asked her what she thought about the illustrations.  She, a budding artist herself, gleefully grasped the journal and said, "Oh I LOVE the pictures in this book! I LOVE how the images match the verses!" (Side-note….it's pretty impressive that a third-grader was able to marvel at the connection of illustration with print! Have I told you how clever this child is?)
She quickly turned the pages to show me the journal page headed by the scripture "Your word is a lamp into my feet and a light for my path." Psalm 119:05.
"Look" Kendyl told me pointing at the page, "it looks like flashlight is shining from the cross to the Bible.  The Bible and cross is like a flashlight to help us see!".
Then she flips the pages a bit further.
"And this one, too….This is a picture is of God's Kingdom and the illustration is of God's castle.  Look at the clouds!"
Then she flips a few more pages.
"This one has a picture of an owl.  Because an owl is smart.  The verse is "If any of you lacks wisdom, you should ask God, who gives generously to all without finding fault, and it will be given to you."  James 1:5
OUR TAKE-AWAY: The connection of the verse with whimsical illustration is strong.  It helps young readers have a better understanding and builds excitement for the scriptures.  Judging by Kendyl's response, the illustrations are a major draw for this series!  She was excitedly showing me verses from the Bible.  She also liked how some of the words were "big".  In adult terms, this means she was drawn to the typography in the journal.  It captivated her interest.
Kendyl and I both agreed that it was a bit challenging to understand the connection between the devotional book and journal.  Originally we thought they were meant to be used together (for example, each night read a devotional entry and complete a corresponding page) but this is not so.  They can be used together because the theme is the same, but one is not dependent on the other.
Kendly's overall review of the series was positive and she thought "other kids would like to read it to find out how God made each of us."
Her mama (a teacher with a specialty in early childhood literacy) had a positive review of the books as well.  She said, "This series is a good transitional from bible stories to bible life application.  The devotional entries are short, sweet, and have a simple kid application."
Our Takeaway: Educator and Mama Approved.
Thanks, Kendyl!  God has BIG PLANS for your life.  I love your sweet spirit & passion for kindness and creativity.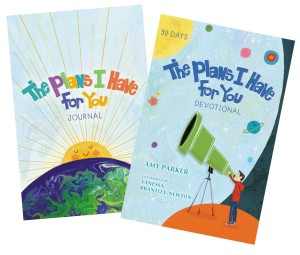 ---
THE GIVEAWAY
WOULD YOU LIKE A COPY TO READ WITH THE KIDS IN YOUR LIFE?
I am thrilled to be able to offer a copy of both The Plans I Have For You Devotional and The Plans I Have For You Journal to one of my readers.
To enter, just follow the prompts on the giveaway widget below.  Zondervan books has graciously gifted one set to readers of All-American Mom.
(HINT: You can enter this giveaway more than once!)
---
A BIT MORE INFORMATION ON THESE BOOKS:
The Plans I Have For You Devotional
Devotional Age Range: 8-12 years
The devotional is a hardcover illustrated 90-day devotional written by bestselling children's book author Amy Parker and illustrated by Vanessa Brantley-Newton, teaching and inspiring kids to dream about their future, to focus on faith, love, and joy, and recognize that God has a plan and purpose for each and every one of us.
About The Plans I Have For You Journal
Journal Age Range: 11-14 years
The journal prompts creative thinking and exploration of the talents and personalities that make us special, and then helps explore how God may use our unique traits to spread love and joy and make the world a better place.
Stationary; 208 pages
Age Range: 11-14 years
"Disclosure (in accordance with the FTC's 16 CFR, Part 255: "Guides Concerning the Use of Endorsements and Testimonials in Advertising"): Many thanks to Propeller Consulting, LLC for providing this prize for the giveaway. Choice of winners and opinions are 100% my own and NOT influenced by monetary compensation. I did receive a sample of the product in exchange for this review and post. 
Only one entrant per mailingaddress, per giveaway.  If you have won a prize from our sponsor Propeller / FlyBy Promotions in the last 30 days, you are not eligible to win.  Or if you have won the same prize on another blog, you are not eligible to win it again. Winner is subject to eligibility verification."