What's Motivating Your Career Decisions?
Rick Whitted & I are both represented by the same literary agency.  I got a sneak-peak at his book before it released (and a copy for a giveaway to one All-American Mom reader!)
I have to say…I have been fascinated by this book.  It is rich with career advice and advice that will make our lives fulfilled.  I'm not exactly in the workforce right now (well…I'm a stay at home mom with a successful former career who now writes & helps her husband with our businesses…so I do work…but not in the career sense), but yet the book resonates with me.  I've learned about why I made past decisions and also how to forward my entrepreneurial dreams.
What I adore about Rick's book is that he helps readers unpack the psychology of why we make career decisions. He shares with readers a plan for getting the most out of our careers.
Who might want to read this? Those who want to thrive in their jobs (and lives) in 2016, those who are thinking of making career changes,  college business & career instructors, & those of us who are fascinated with psychology of choice.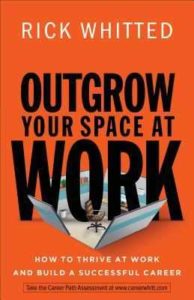 ---
Here is the synopsis of the book:
"How do I get promoted?"
The answer may surprise you

Millions of people quit their jobs every month because they haven't gotten a promotion. But job-hopping in search of advancement and fulfillment may actually have the opposite effect.
Career progression is not about getting promoted, it's about outgrowing your space–making your current job bigger until management takes notice and creates greater opportunities for you. With a lifetime of experience and research to back him up, Rick Whitted helps you
· identify why you want a promotion
· define for yourself what success really looks like
· position yourself for a promotion
· innovate in the role you perform right now
· and much more
Rick shows you how to immediately apply the concepts you learn to your situation. Plus, he offers additional resources, including videos, tools, and assessments, online at rickwhitted.com and careerwhitt.com.
---
Are you Interested?
Find Rick at this website: www.rawhitted.com/
Pick up a copy of the book here.
Or enter for a chance to win!  Click the link below and follow the directions.