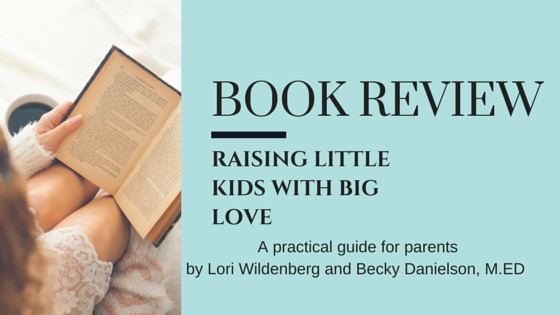 Raising Little Kids with Big Love is a must-read manual for raising kids.   It's a tool chest of brilliant ideas that can immediately be put to use.
This book was entirely different than I expected. I thought it would be a gentle, theological reminder of how we should apply scripture to parent our small children.   But, when I opened the pages I was (pleasantly) surprised to find that it is full of real, practical advice grounded in sound educational philosophy.  Plus it includes humorous anecdotes by the authors about their experiences with their children.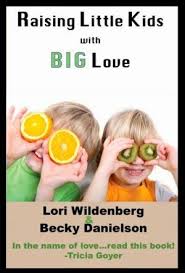 In this book you'll find a bevy of advice on how to handle situations such as: bedtime, the child who bites (I had one of those!), temper tantrums, tattle telling, anger management, and a host of other behavioral benchmarks all our children tend to face. The strategies and advice are deeply rooted in what the Bible teaches us about love.
I'm a former teacher and earned advanced degrees in education. I was not at all surprised to learn that the authors were also educators. In fact, they are also the founders of 1 Corinthians 13 Parenting.
Their love for and developmental understanding of children is obvious. Lori & Becky's goal is not to teach readers how to discipline children, but to teach parents how to raise children that are kind and can successfully interact in society.
It's a book all of us can use.
How we treat our children is how they will treat others. Our job in molding these tiny souls is to help them become grown-ups who know how to be patient, kind, content, humble, respectful, unselfish, peaceful, forgiving, and good. Lori & Becky teach us how to joyfully parent using these same traits.
Parenting can be exasperating and comical.
Right now my five-year old is urging me to watch a commercial on television. He is screaming for my attention.
"Mom! I need this new battery operated toothbrush. It will floss AND brush my teeth. Look Mom! All you have to do is add your own toothpaste!"
    "Pretty cool buddy," I respond. "But I don't think that's something you need right now. Didn't your dentist give you a new toothbrush yesterday? How about we add that toothbrush to your Christmas Wish List? Glad you are interested in staying cavity-free!"
A big-thanks to Lori & Becky for the above tactic of having a year-long Birthday Wish List (I just changed it to Christmas because that is the next present holiday for us) so that my son's "wishes" could have a place to reside and he can start learning the difference between a want and a need.
Our job as parents is to parent with the big picture in mind, not just the immediate future. This book is going to help me to be one less exasperated mama!
All the best,
Sarah Philpott
---
P.S. Lori & Becky….I do have one question for you….will you please consider writing a classroom management book that can be used by teachers and future teachers? It's much-needed!