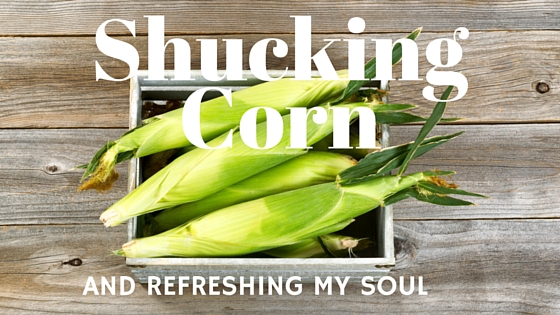 My dear friend came over last Tuesday and we sat on my front porch, in the golden August sunshine, shucking sweet corn for nearly two hours. Our babes played nearby. Amidst the pile of cobs.
She and I chatted about nonsense and about deep matters of our heart. At one point my eyes filled with salty tears while I recounted some events of late.
By the end of the afternoon I had 10 dozen ears of corn readied for the deep freeze.
She the same.
I taught her how to eat corn straight off the cob, and she taught me how to cream it.
We were pretending to be homesteaders;
although, we both prefer modern conveniences.
It felt nostalgic.
Like we should have been wearing cotton aprons tied-up around our waists.
And our husbands should have been out raising a barn or hunting big-game.
There is just something about the days of old that are ripe for the growing of community.
Built into the old-fashioned routine of life were pockets of time for females to tend to their work and to their kids. A time to chat. To build relationships. To have companionship.
Connecting with nature and people.
Sitting together breaking green beans, piecing out a quilt, or picking blackberries. Sharing favorite recipes.
Last week my friend and I were working toward a common goal- stocking our freezers for the winter.
So our families' bellies would be full of a vegetable my husband had painstakingly cultivated.
So we could bite into a fresh reminder of the juiciness of summer on a dark winter night.
But most importantly—we sat on that porch filling our souls.
Sitting side-by-side, breathing in the fresh air doing a mindless task that seems to be anything but meaningless.  
Women need women.
We need our souls refreshed. We need to be able to meet together to encourage one another. To listen to heartache and happiness.
To laugh and giggle.
To refresh each others' souls so we can continue putting our best selves forward.
I was revitalized while sitting alongside this friend of mine.   Each of us pouring out our thoughts as we shucked and silked.
I was encouraged and my heart strengthened. Ready to face the days ahead.
Today's lifestyle gives very little margin for true cultivation of friendship.
We are to busy going from one task to the next.
So we've got to work a little harder. We've must set aside time to just sit, in an unhurried fashion, in the nearness of our Godly friends.
Soakin' in their presence. Reaping their advice and love.
One thing my sun-washed afternoon spent shucking corn taught me is that just as much as I need food for nourishment, I also need Godly friendship for my own renewal.
Not a text. Not a phone call.
But time spent together.
Where we can see each others' eyes crinkle when our voices erupt into raucous laughter.
And where we can revel in the joy of just 'being with each other.
And let us consider how to stir up one another to love and good works, not neglecting to meet together, as is the habit of some, but encouraging one another, and all the more as you see the Day drawing near. (Hebrews 10:24-15 ESV)
 Love & Blessings,
Sarah
 You want to know my favorite EASY way of preparing fresh corn.  Here it is!  Enjoy.