Life without electricity, using an outhouse, and being taken to school by a horse-drawn wagon–it all sounds a little amish, but was just life in our tiny community of Claxton during the 1920s and 30s.  I've always been fascinated by the life my 93 year-old grandmother, Faye, was born into.
One of the most important projects on my list of life to-do's has been interviewing my grandmother and putting it all together in a story.  Writing eases my soul.  But, unfortunately I don't always have the time to complete the projects I dream up.
Then I learned of the magic of Writing the Soul.  Nechamie is  a memoir writer and she interviewed my Faye over the phone and put her words into a story.  It was an incredible experience and she can do the same for you if you have a story you would like to be told or recorded.   I am so excited about this giveaway from Nechamie Margolis, a memoir writer from Writing the Soul!
In fact, I get to gift a $100 discount off of Nechamie's services to one of my readers!
Nechamie was a pleasure to work with and was so patient with my grandmother.  The questions she asked really helped Faye remember what her life was like growing up, almost a century ago, in the rural farmlands of Tennessee.
My favorite part of the interview was, after hearing how hard my grandmother and her family worked, asked, "What did you do for fun?"  My grandmother skewed her face and said, "Why honey, everything we did was fun."  Isn't that a lesson for us all?
I'm now able to gift the story to my grandmother for Christmas, and also share it to my other family members as a family history.
I would love for you to keep reading the story she wrote about my grandmother, but I'll go ahead and interject that I'm giving away a $100 discount off of Nechamie's services.  To enter, leave a comment in this blog post or on one of my social media posts.  Tell me whose story you would love to have Nechamie write for you.  I will pick a winner on Thursday, December 21st.
(I must also remind readers that these are the tales from my grandmother.  We are blessed to have two of her other sisters still living with us.  They might disagree on a few points.  Ha! Family gatherings were notorious for hearing the diverse recollections of their childhood!  I would love nothing more to have them be interviewed by Nechamie as well. )
---
Tales From My 93 year-old Grandmother Faye: Growing up in the 1920s & 30s
When Mama went into labor with me on a summer day on June 3 of 1926, Daddy ran to Grandma Davis's house at the foot of the hill, because she had a telephone to ring up Doctor Taylor from Calhoun. He came straight away to deliver me, just as he'd delivered my older sister Allie Marie, who we fondly called Ree. I was named Nellie Faye, but was called Faye.  I don't know how come they put Nellie at the beginning of my name.  Nobody ever called me Nellie. I hated to see that name on my grade card.
I was born in a three room house in the small community of Claxton, Tennessee. There was a small living area, a kitchen and one bedroom we all shared. One bed for my sister Ree, one bed for Mama and Daddy, and the crib my Daddy built. When my little sister Hazel (who we called Peepsie because she was so little) was born two years later, I moved into the bed with my sister Ree.
The day she was born I went to Claxton School with my older sister, Ree.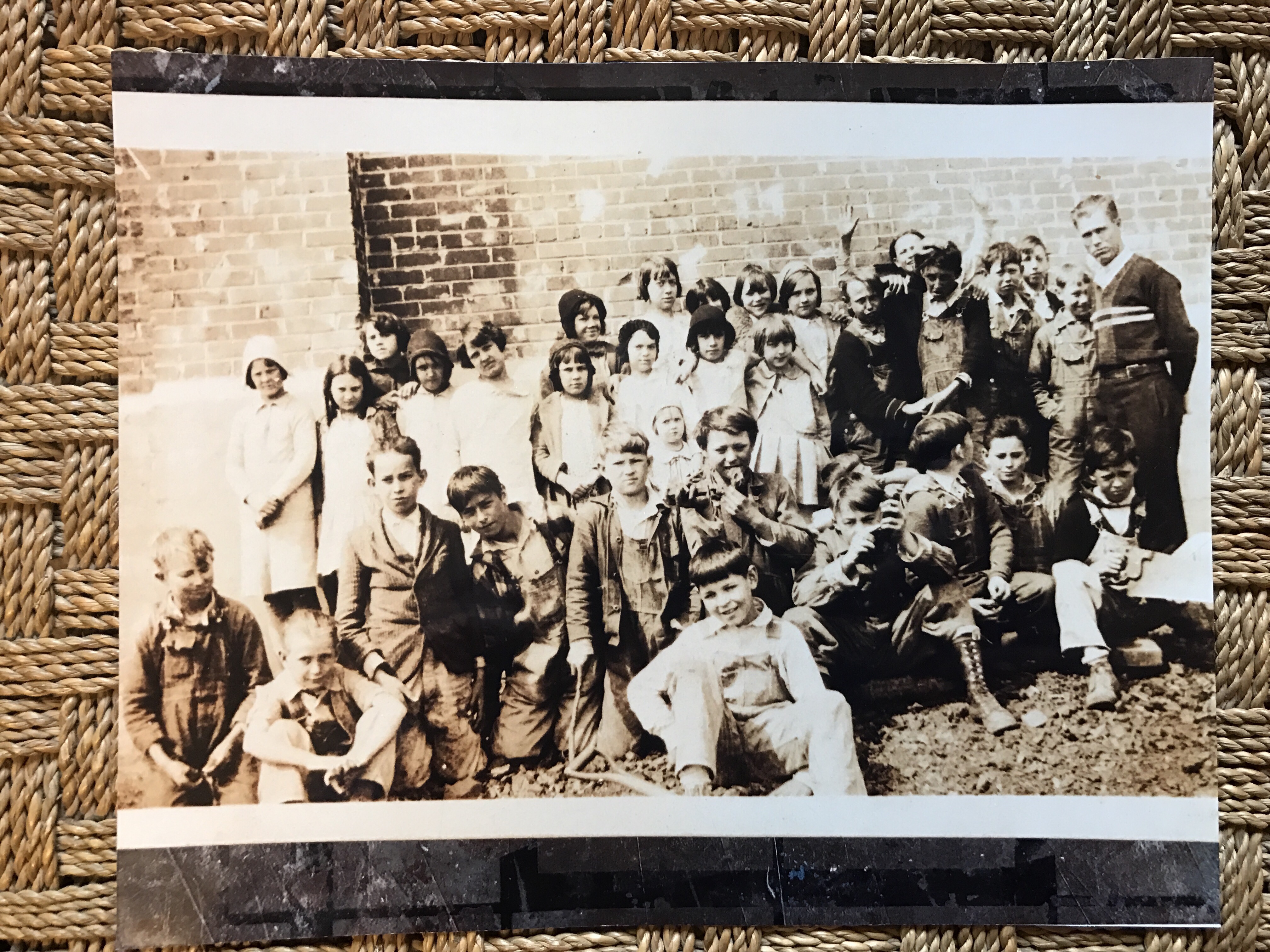 Three years later my sister Jo was born. We all stayed home and worked on the farm together.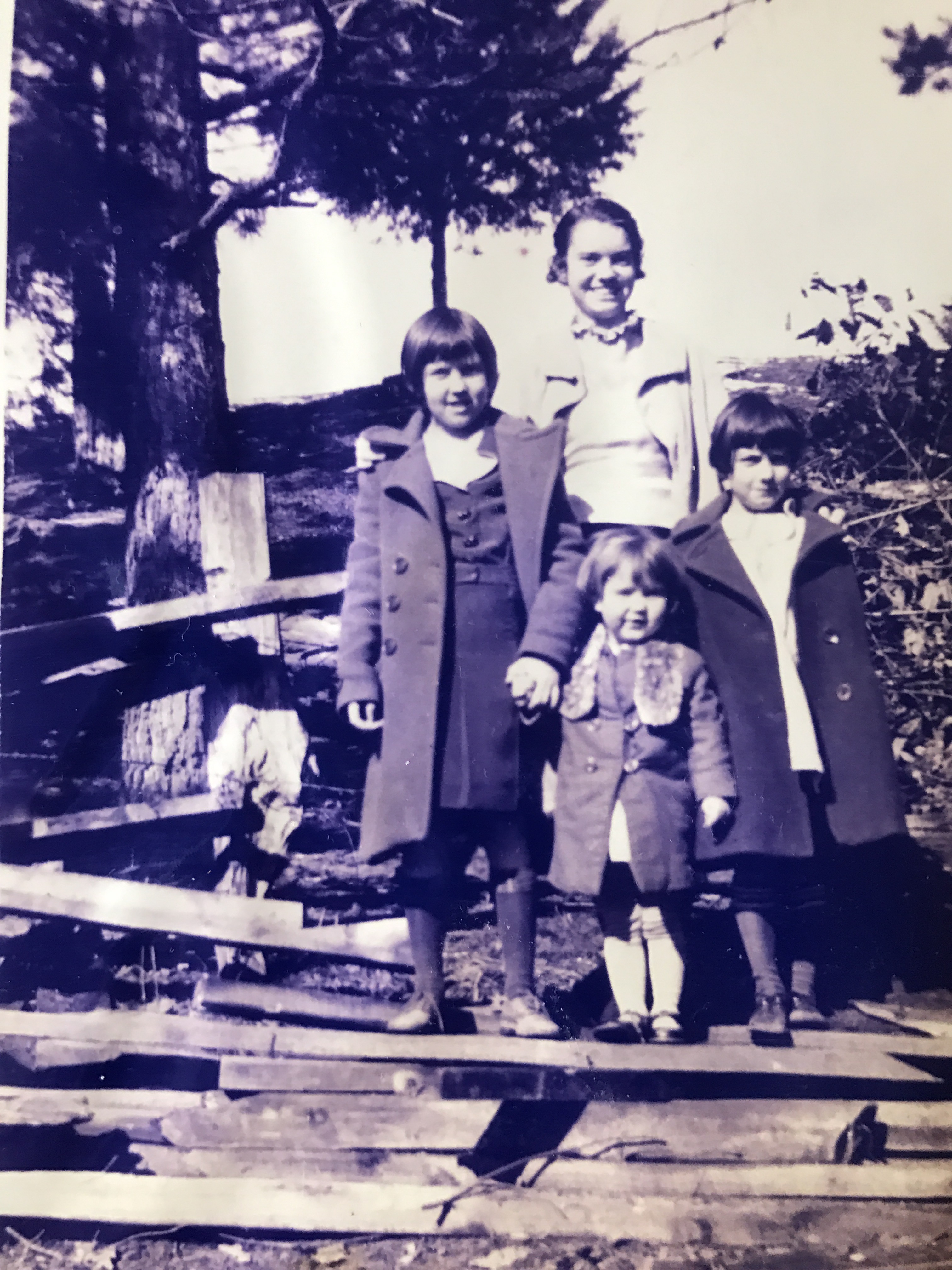 During World War One, Daddy was in the service and stationed in France. He wrote letters to my Mama while he was there. They weren't married during that time, but he sent her love letters. He wrote one time that he would have starved if it hadn't been for stealing food from a farmer's turnip field.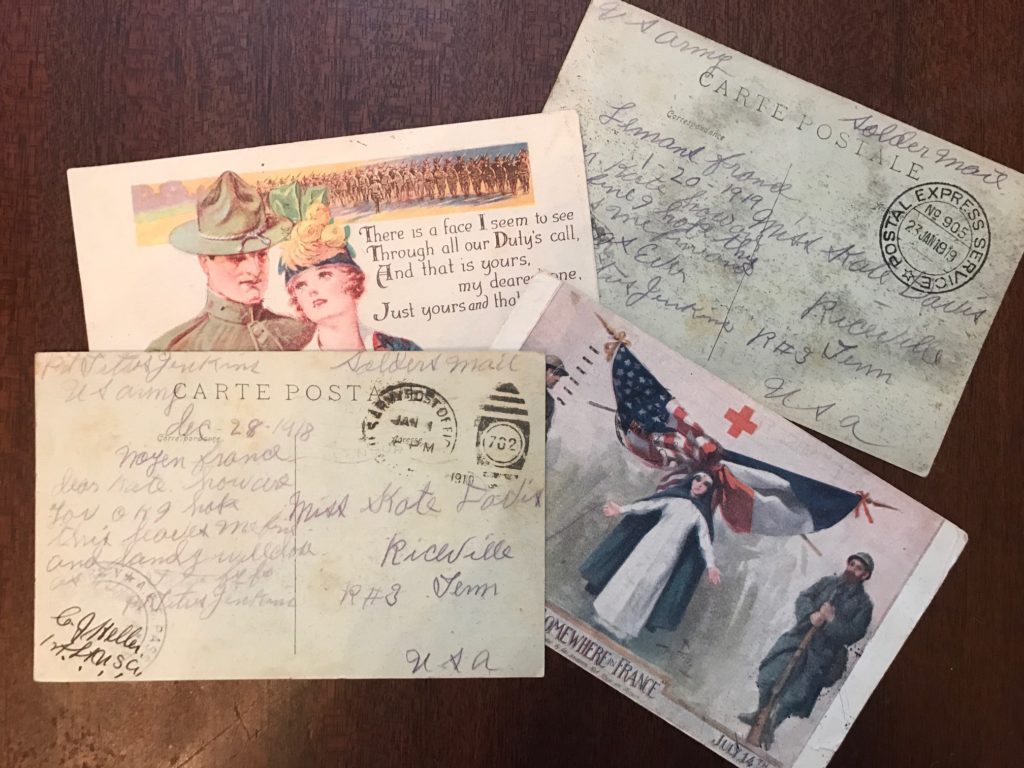 During his time there he got sick, and was discharged with a pension that reached close to a hundred dollars a month by the time he died. With the pension and our farm, we did just fine.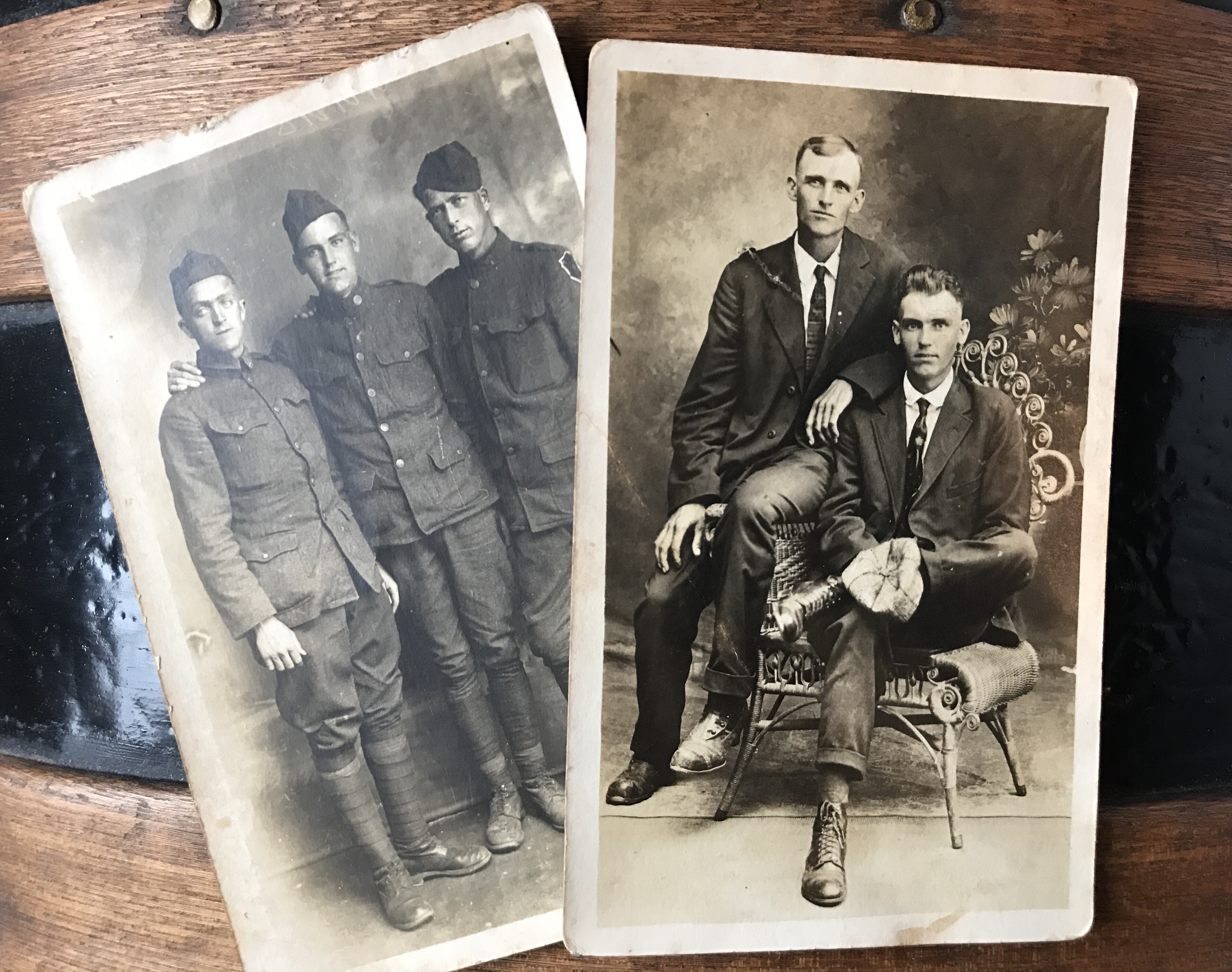 When I looked out our window, I could see our farm and all the things we grew, tobacco, beans, carrots, potatoes, and corn, stretching far beyond our little house. It was an way out in the country, and our closest neighbor, aside from grandma, lived quite a distance away.
We lived in that little house until I was ten years old, without running water or electricity.  There wasn't a great need for electricity in our area, and it wasn't until the 40s that our new house–just up the hill from our old house– was wired for electricity. We cooked on a wood stove and opened the windows in the summer to stay cool and used the fireplace in the winter to stay warm. When it got dark, we had kerosene lamps that we'd fill up each night, carefully wiping out the globe from soot so the fuel would burn cleanly.
We didn't have indoor plumbing either so we used an outhouse at the back of the house. We had to watch for snakes and insects and chickens. The chickens liked to come peck at you. They were a big problem. At nighttime, and in the winter, we had a pee pot next to our bed. It was too cold to go outside!
We collected rainwater in our cistern for drinking and the rain water would also run off the gutter of the house into the cistern.
Some summer evenings, our family would go outside and catch bullfrogs. We'd place them in the burlap sack we carried. We'd put them in a cage of sorts and in the morning, Mama would fry them for breakfast, and I'd watch those bullfrogs jumping all around that skillet. One morning, we went into the kitchen for breakfast and the frogs had all escaped. We laughed of course, but I was sad because I wouldn't have my frog legs for breakfast.
We had plenty of other things to eat though. Mama was a good cook, so we always had a good breakfast. We had a hog and raised chickens, so ate a lot of that. We had cornbread at every meal, biscuits and molasses and eggs. And of course lots of gravy.
We'd milk our cows each morning. We had no refrigerator, so we'd store the extra milk in a crock in the spring near our home to keep it cool during the hot summer months. We also kept our meat and butter there, and sometimes it got so hot that even the spring couldn't keep it cool enough and the butter would melt right off the plate when we were carrying it from the spring to the house.  Mama should have had us put the butter in a bucket instead of a plate.
Sometimes visitors passing through would buy our milk and potatoes or some of the produce we grew.
We canned food all the time and I'd help peel all the foods to be canned. I would climb the apple tree eating while I picked and picked the ripest blackberries to make jellies.  
I worked the farm practically as soon as I could walk. I had to do anything my Mama or Daddy told me to. So I milked cows, brought the milk to and from the spring, did chores inside the house and helped with the planting and picking of our crops. I liked the outdoor work better than being inside.
Daddy raised cotton, and the school would let out for two weeks so the students could help their families with the picking.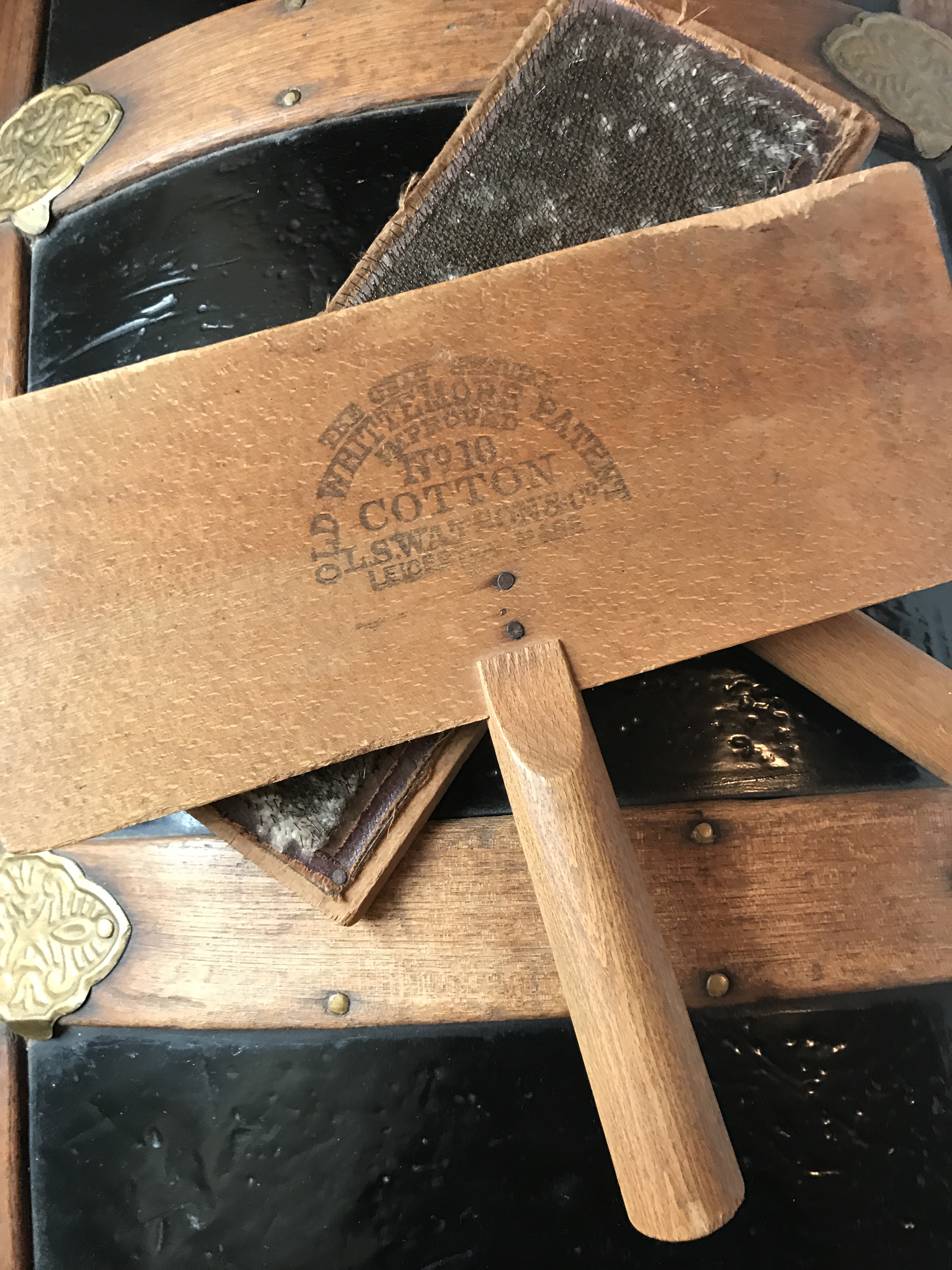 That was the main income for most of the people in our area. After we picked the cotton, we'd take it to Trew's Store where they had a cotton gin; it sucked the cotton right out of the wagon. I remember riding with my sister Peepsie and Daddy to the cotton gin, sitting on the back of the wagon pulled by two mules, the wind blowing our dresses clear up in the air. How Daddy liked to tease us!    
The growing of tobacco was hard work. We'd start in the spring with planting. In the summer, we spent hot days hoing the tobacco patches. Then in the fall I'd work in the barn, taking the leaves off the tobacco plants and grading them according to quality. Then we'd wrap it in bales. Come winter, Daddy would pile them on his truck and drive to Knoxville. It would take him two hours to get to the tobacco market.  
Most people in our area only used horses and wagons to get around. An automobile was a rare sight, but Daddy always had a car. I remember our family driving to Calhoun, a ten mile drive alongside the river. Grandma Davis came with us and she had to sit in the middle because she was a really big woman, and we were afraid that if she sat on the side, the car would be unbalanced and topple off into the river!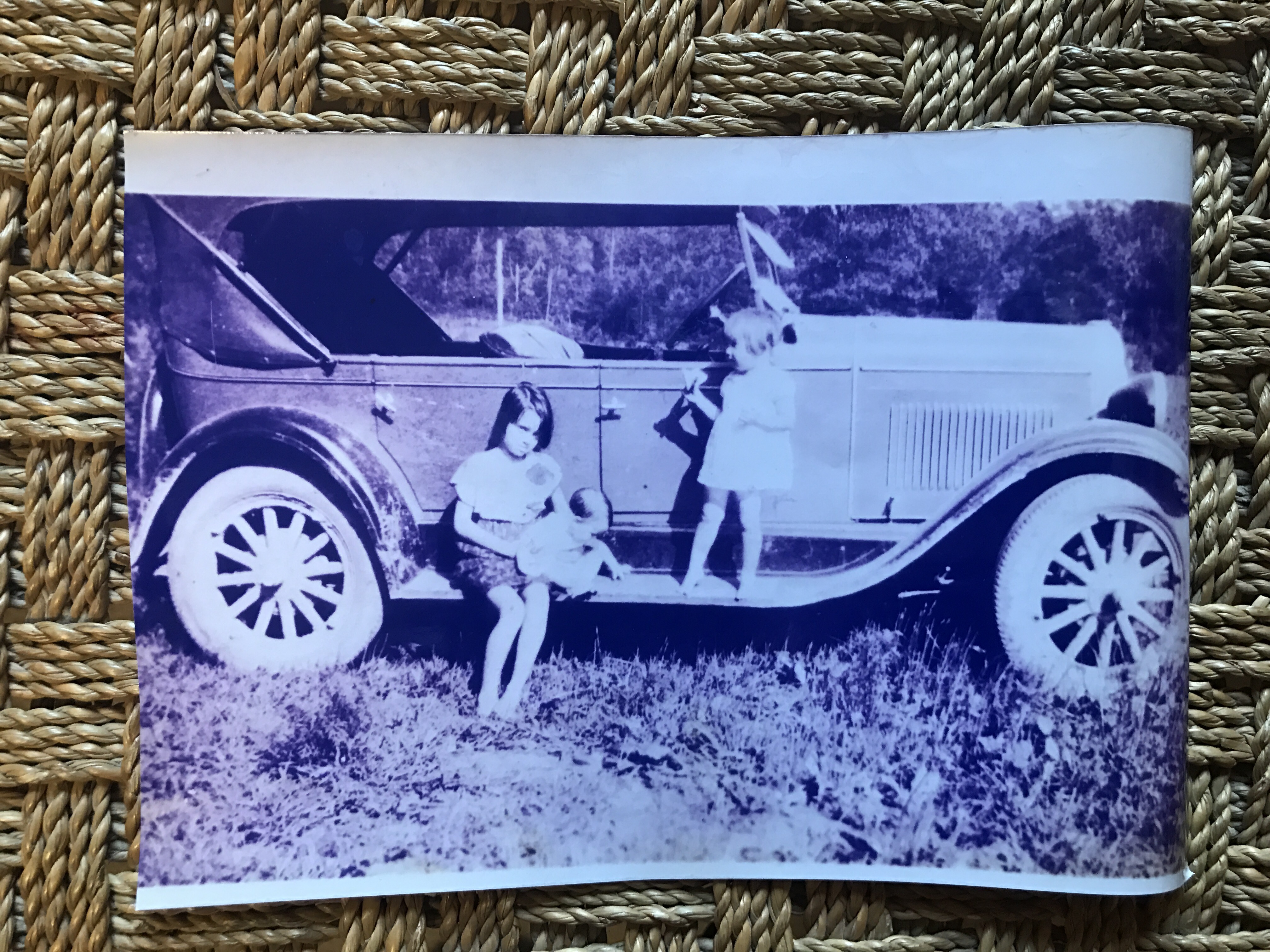 I didn't get sick too often, but I did get the chickenpox and mumps. I remember lying in bed swollen with the mumps. I was so sick and it hurt so bad, that when my sister Peepsie came in and tickled me under the chin, I was too weak and tired to slap her hand back. Peepsie was always trying to tease me and I tried to tease her too. We were just two years apart and played together. Dr. Taylor, the same doctor who delivered me, would come whenever we called him from Grandma's telephone. He'd ride over on his buggy for the home visits and give me some medicine. I don't remember what he gave me, but I do remember that I didn't like the taste.
There was a tiny store in Claxton for basic necessities, but for the major things we'd go to Calhoun or Athens. Although we lived in a small three room house without electricity we were pretty well off. We always had nice clothes, plenty to eat, and when Daddy took us to Athens, he'd give us a penny or nickel so we could buy ourselves a sucker. There were plenty of kids in our school who didn't bring much food to school for lunch, but we always had plenty. (When I was a little older, they had a cafeteria in school and served soup every day for lunch, so we nicknamed it the soup kitchen.)
We went to a one room schoolhouse two miles away.  It opened in 1921.  We walked on the nice days, but during the winter, our horse-drawn school wagon picked up us and the neighboring children each morning.  I stayed in that school through eighth grade and then another two years of high school.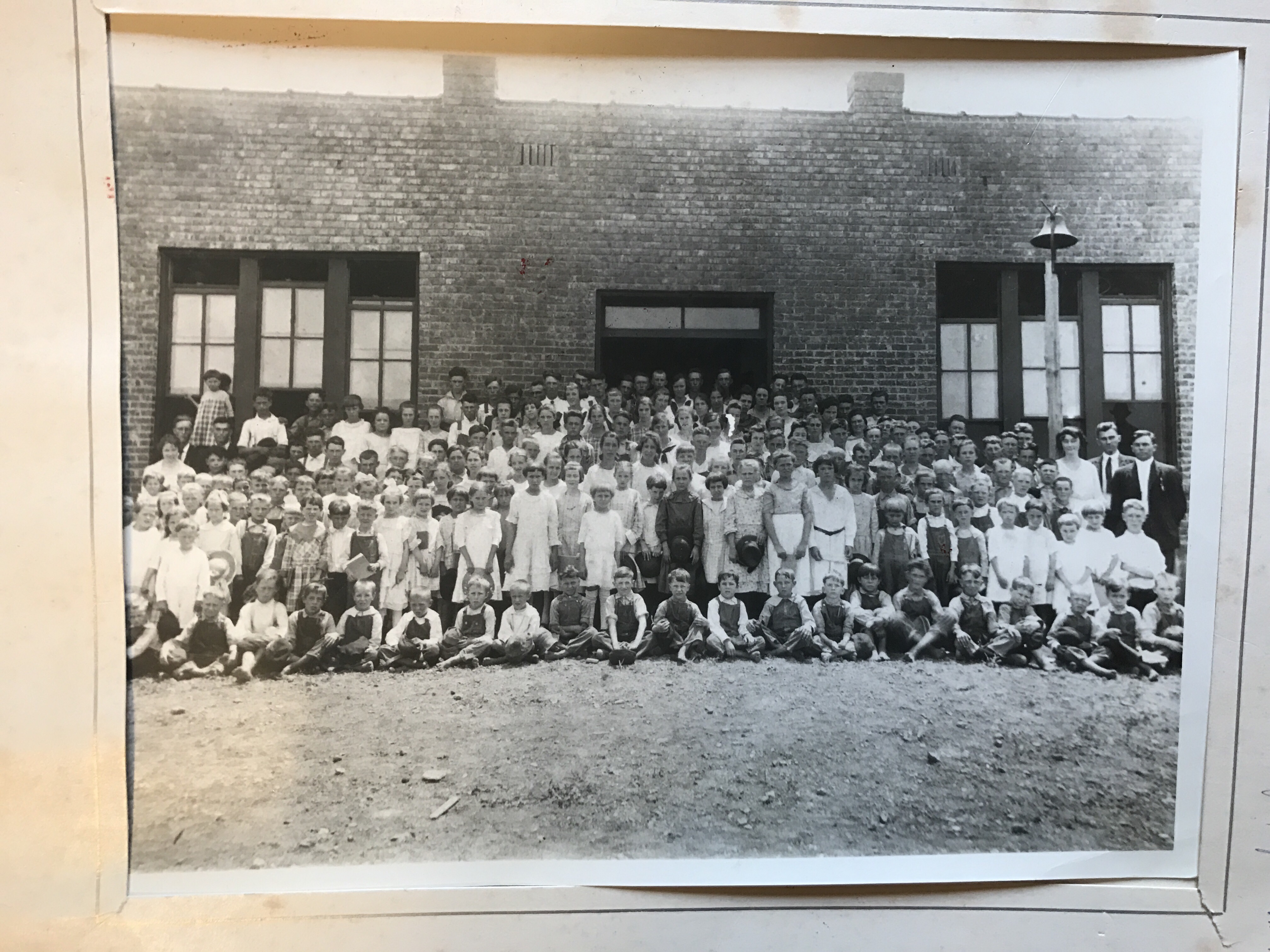 After we graduated our little schoolhouse, my sisters and I went to McMinn High School in Athens.  We rode a school bus there, a thirty minute drive for us.  I made the basketball team. On nights we had games, I stayed in Athens at a ladies house. The roads leading to Athens were narrow and winding, signs all along the way telling people to "See Rock City" and "Get Right with God."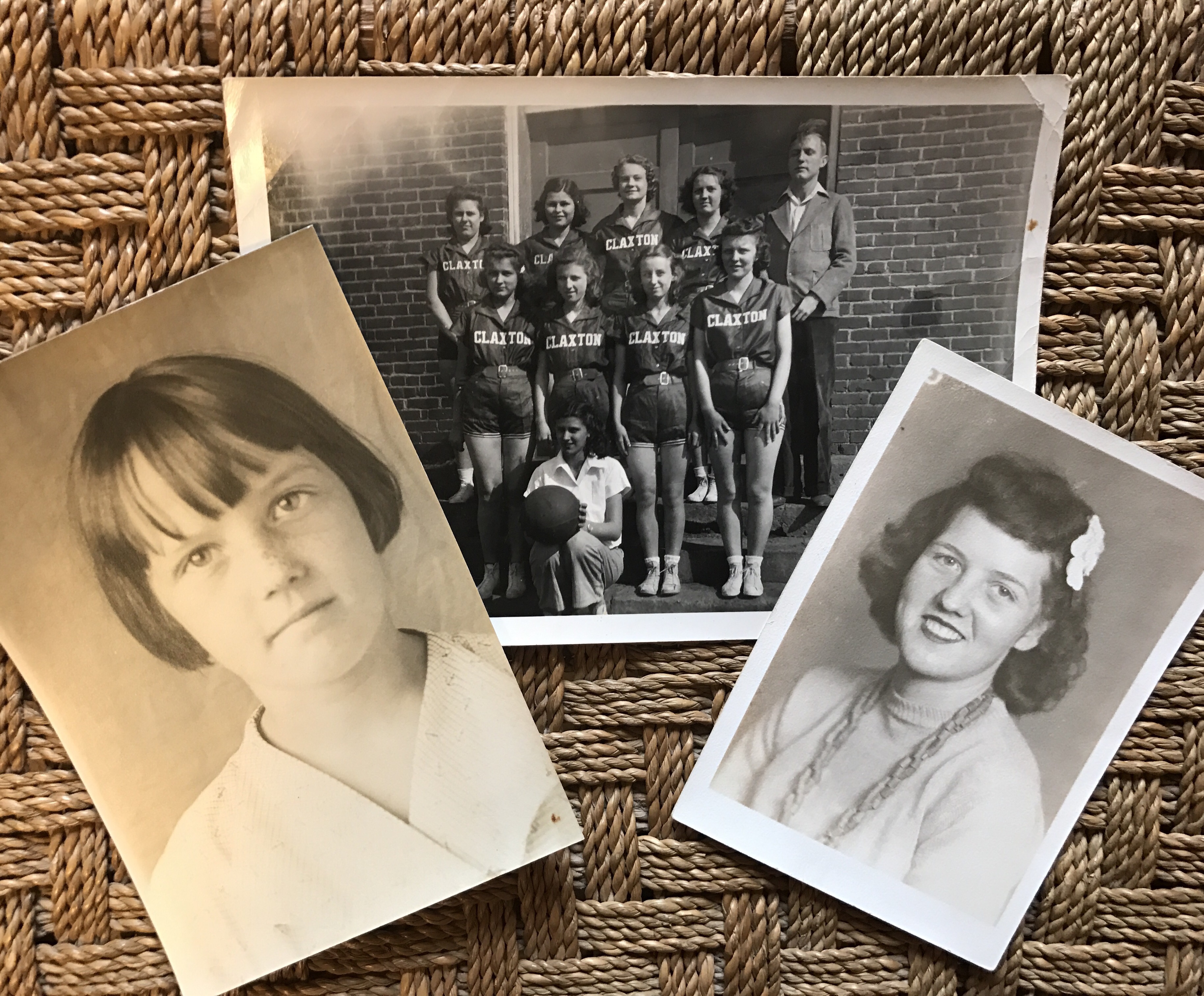 Athens was a meeting place for farmers from all the nearby communities. There were almost seven thousand people living there, and on Saturdays the farmers would walk along the unpaved roads to gather near the courthouse, and stand under the elms discussing politics and crops.
One day, when I was still in grammar school, I was late for the school wagon. I remembered I needed a pencil so ran inside, but was in such a fluster, I picked up the lamp instead. "What the hell are you doing with that lamp?" Daddy asked. I looked down and saw that the lamp was in my hand, and the pencil on the table. So I put down the lamp, picked up the pencil and threw it at Daddy. He didn't mind. He just laughed.
We always had fun doing everything we did. Nobody had a better mother or father than I did. Daddy was always laughing, Mama was a wonderful cook, and my sisters were mischievous, having fun and playing pranks. Once, when I was filling a bucket of water in the house, I played a prank on Daddy, pouring it out the window, and drenching him. He just laughed and said several curse words.  But my sisters and I weren't allowed to say bad words.
I don't think Daddy minded not having any boys because I was a real tomboy! My older sister Ree was the good one, and my youngest sister Jo was the baby. But us two middle sisters were very mischievous and always getting into trouble. Peepsie and I did everything a boy could do, helping on the farm, climbing trees and scraping our knees. We all learned how to cook and sew, but Mama didn't make us sit inside sewing and cooking all day.
Mama, on the other hand, was wonderful at sewing. She had a sewing machine that she bought in 1923 with her chicken money–the money she earned from selling the eggs and chickens. It cost seventeen dollars, a whole lot of money in those days, and was a real treasure. We still have the machine till today.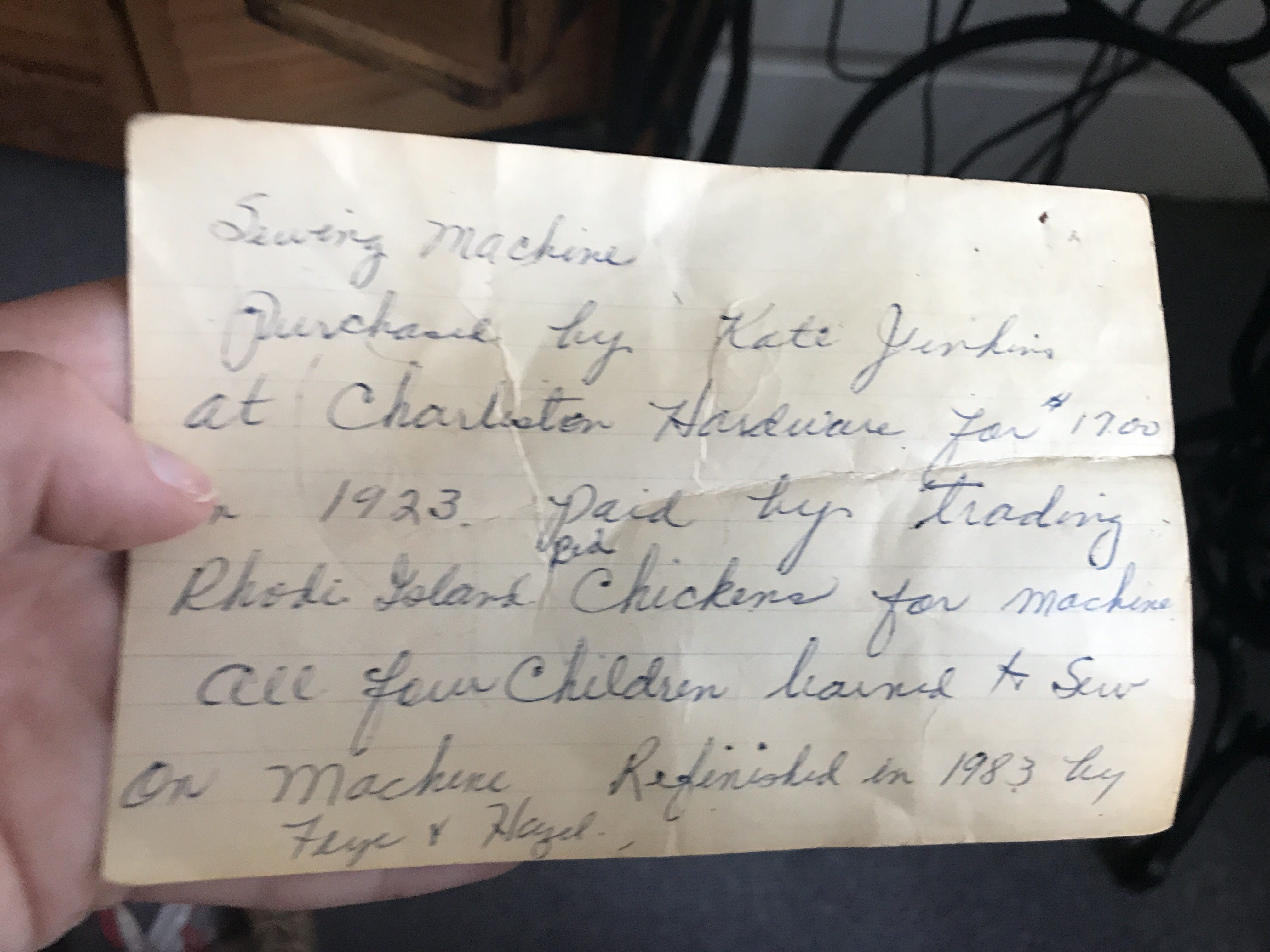 She kept us all dressed really well, from cloth she bought in Calhoun. She'd sew dresses for each of us girls, and when we were ready to hand them down to our younger siblings, she'd mend them a little differently, so they looked like new.
Once a lady from Chattanooga came to buy some of the handkerchiefs Mama made, and said she never saw such pretty stitches. Mama sold a lot of her beautiful handkerchiefs, and my grandchild Sarah still has some of them.  
We couldn't go to church without our weekly bath, so every Saturday evening was bath night. It was quite a process. We had to carry buckets of water from the spring and pour it into a giant pot on the woodstove. After the water was heated, we'd pour it into the washtub. No one ever wanted to be the last person to take the bath as we often shared the bathwater. And if my younger sister Peepsie took a bath before me, I definitely didn't want to use it, because true or not, she'd tell me that she peed in it!
In the summer, we'd usually take our bath on the screened in porch or the outdoor shower Daddy built.
The next morning, all clean from our baths, and in our best Sunday clothes, we'd go to church in Daddy's old car. We'd have Sunday school classes in the morning and then the pastor would preach. It was a long sermon and we had to sit very still and weren't allowed to giggle. I enjoyed going every Sunday though–it was the only time we got to go out. When it was over, often I'd go to a friend's house or they'd come to us, we'd eat a nice Sunday dinner, and return to church for the Sunday night service.
Once a year, on Mother's Day there was a homecoming and everyone ate together, but usually each family had their own Sunday dinners at their homes.  
Christmas was always special. We cut down a big Christmas tree and strung popcorn to put on the tree. Daddy would order our presents from Sears. We knew they were somewhere in the house, but no matter how hard we looked, we never could find them.
I remember the Christmas that all my sisters got a doll and for some reason mine didn't come. So Daddy went to town the next day and bought me one. Santa Claus always left us oranges, apples, and candy under the tree.  
Growing up we were a good family. We worked, and we shared things. We had fun and Mama and Daddy were always good to us.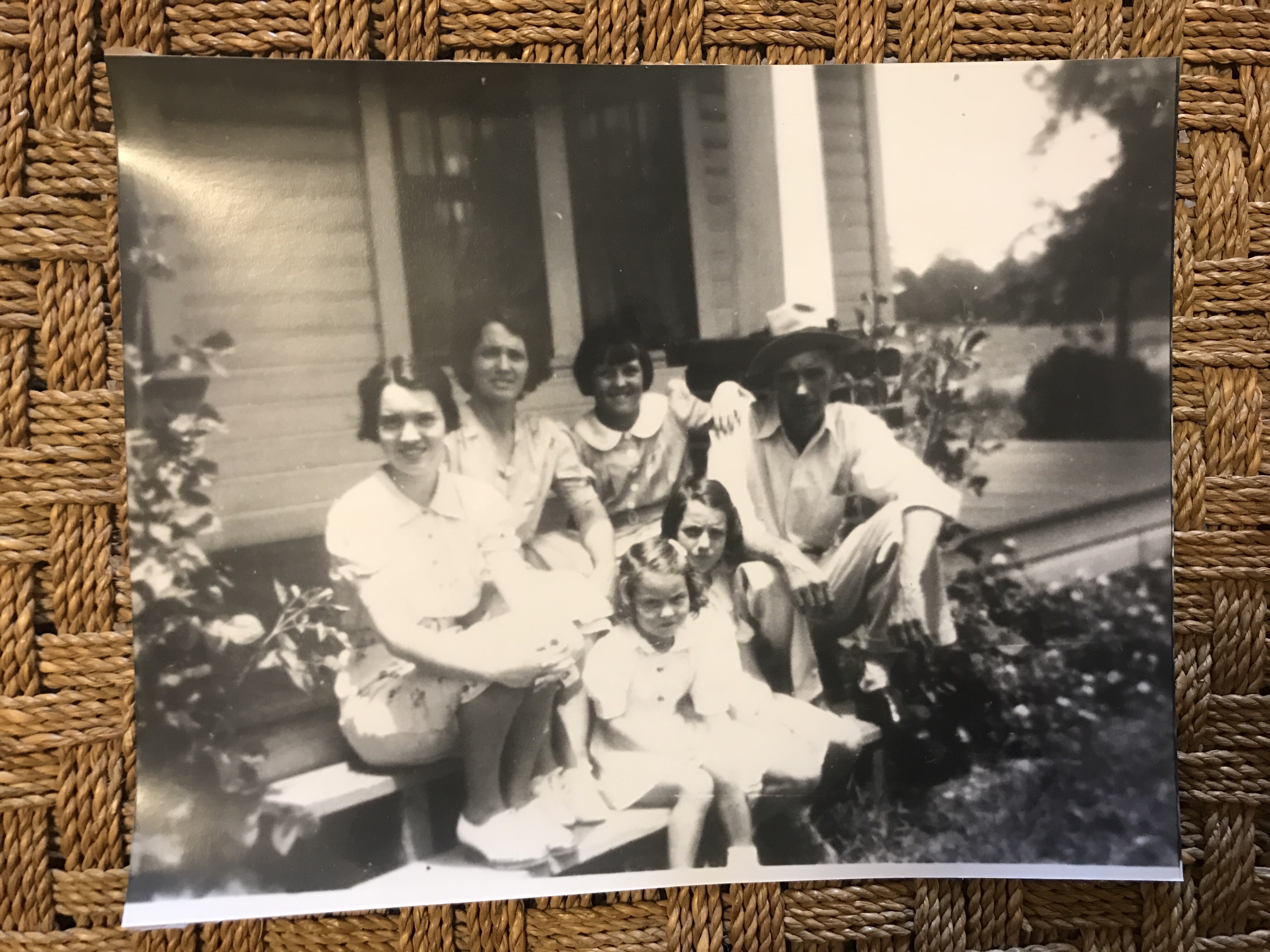 Faye went on to marry Sam Lewis and has a son named Doug.  Her grandchildren are Dustin and Sarah.  
She managed a Sears department store nearly her entire life, working as a female owner/manager when most women stayed home. Unbeknownst to her, she also worked on the Manhattan Project at Oak Ridge (the nuclear bomb that bombed Japan during WWII), doing secretarial work for the project.
All four sisters went on to have incredible and distinguisehd lives across the United States.  One can't help to believe that their upbringing prepared them to soar.  In all honesty, when you look at the legacy that came from that tiny three-room house you would be amazed.
---
Click here to learn more about my book.