If my hometown had a shirt it would read: sweet tea, farms, and church steeples.
Some people might want to live in Houston, Chicago, or even buy real estate in  Dayton, Ohio ,but I am so happy I reside in my small-hometown. It is pure old-fashioned Americana.
It might be a little ragged around the edges, but it's just right for me.
Fresh air:
I walk out of my front door and instantly into God's chapel. I love gazing up at the big night sky. Stars twinkle. Lightening bugs glitter. The milky moon sits high above the hills. & peace rushes in my soul. I'm just a stone's throw from the Cherokee National Forest where hiking and mountain streams prevail. Nearby the Hiwasee and Ocoee Rivers and Tellico Lake provide summer-sized doses of fun. Picking blackberries, fishing in our pond, and running barefoot through water sprinklers brightens my kids existence.


Food:
HalfBack Barbecue is absolutely scrumptious. The alfresco dining experience is so much fun (& Courtney always sneaks the kids some cookies!).  You'll find me there once a week ordering a sweet tea + brisket platter.   Mike & Courtney are foodies and bring our small town some  new recipes they've discovered throughout their food travels.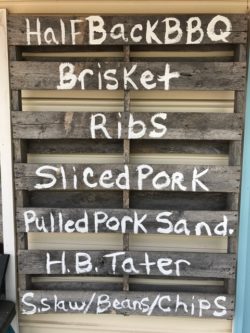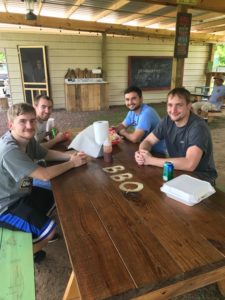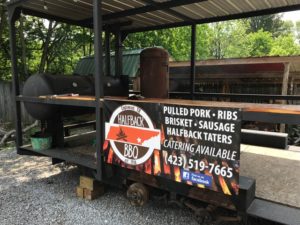 Dixie Pig Barbecue might have pig in their name, but it's Heather's Chicken Salad that is my absolute favorite item on the menu. (& her potato salad is pretty much the best ever). She sends me texts when she's made a fresh batch! Plus, we love the hand scooped Mayfield ice cream. It's a weekly treat for me & my kids. & if you've ever wondered what a fried bologna sandwich tastes like… you can try one here!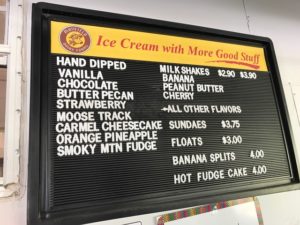 The Tellico Junction Cafe is the place to go for home-cooked meals or a pancake breakfast. There are also homemade pies & daily specials. The gumball machine might just be my children's favorite attraction in the area! Plus, Santa frequents the establishment each year. He parks his sleigh atop the building and comes in to visit with the little ones. The "all-you can eat" Thanksgiving Buffet is also not to be missed.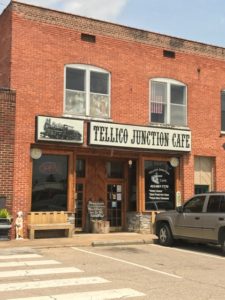 Faith:
We only have two stoplights, but over thirteen church buildings reside in our town. The love of Jesus is everywhere! From men in suits to overhauls, you'll see a bit of all styles packing the pews on Sunday mornings. We believe in the trinity and potluck after church.

Farm living:
It's not unusual to see a horse and buggy or even a tractor driving down main street. This little town is surrounded by agriculture. Cows graze, llamas reside in pastures, and donkeys, goats, & chickens are common to see peaking out from barbed-wire fences. Row crops fill the fields and men (& women) work hard. We have a front-row seat to the cycle of nature. Prepare, Plant, Cultivate, Harvest, Rest (well at least for the soil…not for the farmers), Repeat.


Friends:
Due to a lack of events, we make our own fun. Backyard cookouts and front porch parties make up our social calendar. "You want to come over tonight" texts are sent and "Sure, what can I bring?" are the replies. Our kids chase fireflies and we adults laugh underneath the stars. We pick pumpkins together in the fall and shoot fireworks in July. It's a blessed existence doing life together.
The police chief and his crew have the heart and community-building spirit of Mayberry mixed with a "you better abide by the law" protect & serve spirit of Gunsmoke.  The kids say the pledge every morning at the local school.  And people are quick, real-quick, to help anyone in need.  It's the type of "barn-raising" mentality that made towns of old thrive.
I love my hometown, but I bet– if you live in a small little farm community, your life is just like mine. The barbecue restaurant might use a different secret sauce, but overall it's probably pretty similar. Sometimes I pine for bigger living, but when it comes down to it fresh air, farms, friends, faith, and food are pretty much the perfect soil to establish roots for our souls to breathe and bloom.
P.S The Englewood Textile Museum is a great place to learn about the beginnings of this town.
Save
Save
Save
Save
Save
Save
Save
Save
Save
Save
Save
Save
Save
Save