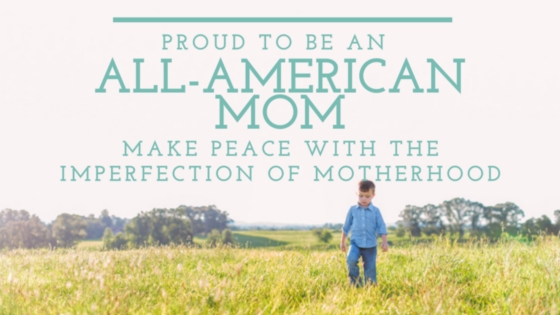 ---
DEFINITION:
All-American: having qualities that are thought to be typical of people in the U.S.
---
One of Time's cover story last month was, Help! My Parents Are Millennials.
I'm a millennial, but hanging on by the cusp.  I'm one of those millennials that played the Oregon Trail.
I winced while reading the report.  What bothered me awas the statistic that "Nearly 80% of millennial moms say it's important to be "the perfect mom."
Really?  I thought we were all a bit more enlightened by now.
From my experience, the only thing typical about being a mom is that we all live in imperfection. Can I get a big AMEN?
Recently my five-year old interrupted my shower with the breaking news that "Sister's making some BIG mischief!"
She's two.  I bolted out of the shower, grasped a towel, and bounded into our living room.  All looked fine.
Then Tite told me to "peek under the rug."
And there it was.  Little Miss Sunshine had cracked a dozen eggs under my rug.  Not just any rug.  But a sea-grass rug that I had pinched pennies in order to purchase.
I shall not fib.  I screamed. At. The. Top. Of. My. Lungs.  Love was far from patient.
Both kids were banished to time-out with the sweet promise of an impending spanking.
Big brother was an accomplice in the matter.  He could have come and gotten me on the first egg crack, but he clearly waited until the twelfth.
Then the plot worsened.
As I moved the rug I uncovered remnants of dried-up egg shell under the other end.
In a quick and hostile inquisition. Tite admitted that, yes, a few weeks ago he too had cracked a few eggs under the rug.
I'm not typically a screamer, but my kids aren't usually egg throwers.  All of us were shocked when my voice level continued to rise as I told them they were in time-out for an indefinite amount of time.
Tite crawled under the chair wailing, "Does this mean I don't get to watch TV?  Oh no!  Is Christmas over?!  MAMA please don't take away my Daddy from me."
---
I giggle now.  But in the moment it was BAD.
And you've just learned two major points about me:  my kids aren't perfect.  neither am I.
Truth be told…this is far from an abnormal glimpse into my life.  Raising young kids is unpredictable at best. Messy on most occasions.  And can riddle us with mommy guilt, can't it?
Wait…Your kids are too engaged in educational activities and have no time for mischief.  Oh, you mean you don't ever lose your temper.  Oh, you are a perfect housekeeper and would have noticed that eggs were under your rug.

Puuullllease…. We all know the truth.  We all fail…daily!  We don't live Pinterest perfect lives or a bubble of pure Instagram smiles.
Instead we live in homes were we find a soup bowl full of white powder under our living room chair.  With a straw sticking out.  And we freak out for a split second because we fear someone in our house is a closet cocaine addict until we realize it's just sugar that the five-year old was trying to smuggle (yeah…that happened to me last week).  I'm not sure if he snorted it.
I'm an All-American Mom. And I bet you are too.  We live in a world where perfection is a-typical and super hard to achieve.
And you know what?  I'm okay with this. And I want you to be okay with it, too.  I don't want 80% of population of mom's striving for this elusive benchmark titled "perfection."
It's just too exhausting.  And ransacks the joy away from this pure gift of motherhood.
Can I let you in on some wisdom?  I'm an All-American Mom because I'm perfectly content with my less than perfect skills.
I've struggled recently with the title of my blog because I feel it gives the perception that I think I'm perfect.  Ha. Far from the truth.
All-American doesn't mean I have it all together.  It just means I strive to have a clean house, a put-together self, and a kind kids, but I don't sweat when mothering greatness can't be achieved. Actually I laugh a lot at my failures.  I might cry, too.  But then I laugh again.
I'm just a typical mom with typical problems, but I'm saved by grace.
God gives us abundant grace.  Why don't we give ourselves some?
It's okay to strive for healthy meals, but land somewhere along the line of Lunchables.
It's okay to invite household help into your life (and by help I mean Daniel Tiger and the Wild Kratt brothers…they are LIFESAVERS).
It's okay to evolve.  My first child I cloth diapered.  My second child I do well enough to even get a disposable diaper on her.  I love them both.
Elf on the shelf is not for me.  Not because of some moral resolute, but because I know I would totally screw up the magic.
It's okay to rock sweats one day and bright red lipstick and heals the next.  Do what you feel.
It's okay not to take a homemade goody to every party we or our children attend.  Some days I might whip us something grand.  Other days I'm the one who takes the paper plates.
I try not to live by absolutes or legalism.  And I've happily given up on perfection.
You see, the reason that I chose to title my blog as the All-American mom is not because I think I've got it all figured out.  It's because I'm just a typical representation of motherhood.  Struggling in the day to day of this oh so important task of raising up souls.
Mama's, we've all got a bit of hypothetical dirt or yolk swept under our rugs.  Instead of stressing over it, let's try to laugh. (I realize sometimes that's hard…but in the aftermath of a good crying fit just allow yourself a giggle).
Realize tomorrow is a new day.  With new interesting obstacles that you never imagined possible.
Dear heart, this too shall pass.
Try to focus on finding joy in the everyday chaos, instead of finding yourself feeling totally inadequate in the quest of perfection.
And hold tight..our kids most likely won't end up in jail.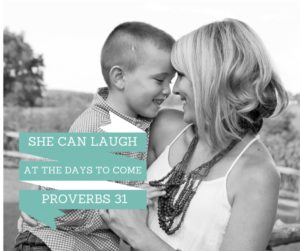 Now go check and see what prizes your kids have left you under the rug!
(P.S….that above picture that looks like a perfect smile between the two of us….the reason we are both giggling?? He purposely passed gas on me.  There you have it.)
Love,
Sarah